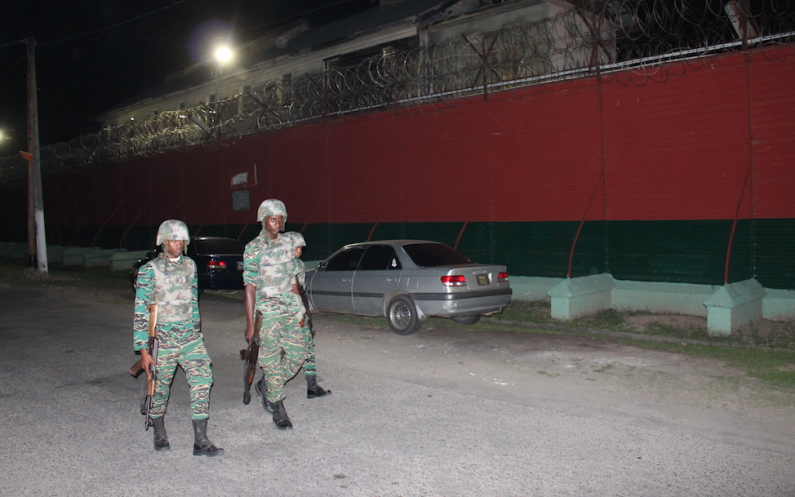 Security by the joint services has been increased around the Camp Street prison after 13 prison wardens reported sick this morning.
Reports suggest that the prison wardens may have reported ill after concerns mounted earlier this week that prisoners might have been planning an unrest.
Today, President David Granger convened an emergency meeting of the National Security Committee at the Ministry of the Presidency to discuss the development.
The Director of Prisons (Ag), Carl Graham has since sought reinforcements from the Timehri and Lusignan Prisons and from the administration division at the Camp Street Prison in an effort to keep the situation under control.
According to the Ministry of the Presidency, "the committee was informed that since the deadly prison riot in early March, inmates have become bolder and much more aggressive; displaying weapons and acting menacingly towards prison officers. As such, the officers have become fearful to carry out their duties. This is suspected to be the reason behind 13 officers submitting seven-day sick leave certificates."
The committee was also informed that there has been an increase in cases of marijuana being thrown over the prison fences and wardens are afraid of being harmed by prisoners, who are under the influence of the drug.
"In light of this, President Granger has ordered that the outer cordons of the prison be extended to include D'urban, John and Bent Streets, which will be blocked off to the public except for persons residing within those areas, as is done on Camp Street."
Additionally, the Commander-in-Chief has directed the Guyana Police Force to assist prison officers in manning the Camp Street facility and the Guyana Defence Force to assist in guarding the outer cordons of its precincts.