Chaos enveloped the Camp Street area on Sunday afternoon as a major fire engulfed the Georgetown  prison during a jail break. Security officials are reporting that four prisoners are on the run.
At least seven prison officers were rushed to the Georgetown Hospital with serious injuries including gunshot injuries. The escaped prisoners are believed to be armed.
Road blocks have been set up in several parts of the city and a major joint services operation has been launched.
It is suspected that there might have been a number of casualties as a result of the fire.
It was just after 4:00pm on Sunday that fire was seen in one of the sections of the jailhouse just after reports surfaced about the prison break.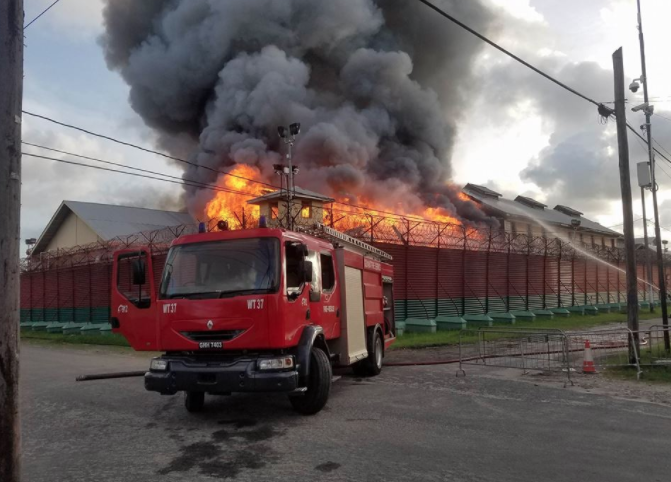 Loud gunshots could have been heard coming from the inside of the prison.
Within an hour, the fire spread to the other sections of the jailhouse as frantic efforts started to evacuate prisoners. Buses were brought in to shuttle the more than 1000 prisoners to other prison and lockup facilities in and around the city.
Prisoners were led across the street to the Prison Officer's Mess Hall.
However, it appeared as though, there were security lapses there as the prisoners made their way into the bar area and indulged in alcoholic beverages.
Moments later, the prison officer's mess was set on fire.
Prisoners scaled the verandah but were all contained to an area outside of the building under heavy police and army guard as efforts continued to move them to other lock up and prison facilities.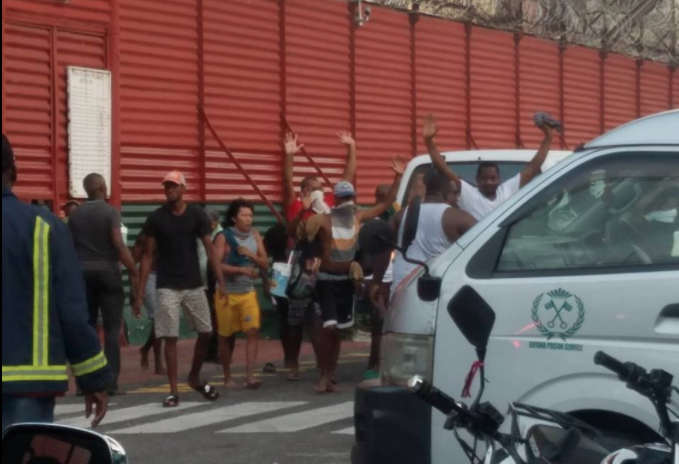 Crime Chief Wendell Blanhum was at the scene and told reporters that at least one prisoner was shot during his escape bid and is hospitalized.  He also confirmed that a number of prison officers had been injured.
Minster of Public Security, Khemraj Ramjattan, in a statement called for calm as he announced that a joint operation had been put in place to arrest the situation. He said a high level security meeting has since been convened by the President. He urged citizens in the immediate surroundings of the prison to stay indoors and clear the streets.
Fire trucks and other emergency vehicles had to jostle their way to the scene as a large crowd gathered from the time the fire started and into evening.
It was just over a year ago, that 16 prisoners were burnt to death when prisoners set fire to a section of the same Camp Street prison during a large protest. A Commission of Inquiry into the incident made several recommendations. Many of those recommendations are still to be taken on board.