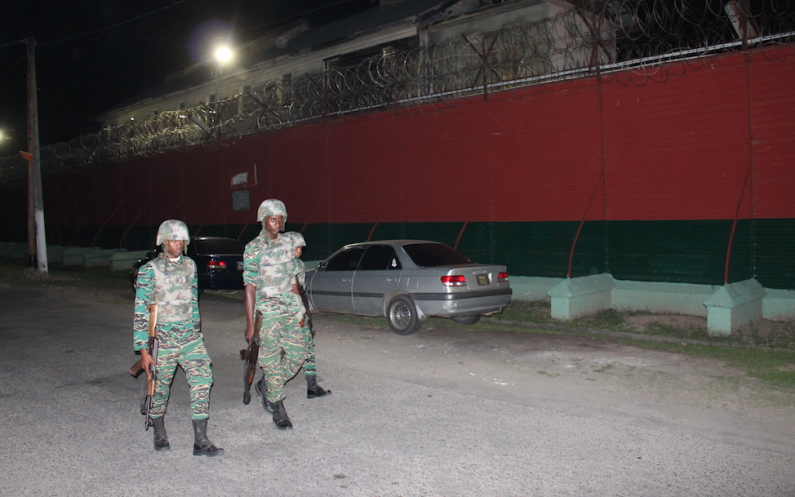 The deadly Georgetown prison unrest has resulted in an increase in the number of security personnel in and around the jail house.
Members of the Joint Services have now joined other police officers and prison officers around the prison as investigators continue to probe the prison fire which was set by protesting inmates and which resulted in the deaths of at least 16 inmates of the capital offenses section.
A number of additional streets close to the prison have also been closed off to vehicular traffic and security remained on high alert.
The Government is expected to name a three-man panel to probe the deadly prison protest by Friday. That panel will examine the situation that led up to the unrest and the role of those involved as well as the response of prison authorities.
The protest first started on Wednesday night after prison officials carried out a raid and seized 19 cellphones and a quantity of narcotics that had been smuggled into the jail house.
For years, the Camp Street jail has faced the problem of banned items being smuggled in. There have been cases where prison officers were arrested and charged for smuggling drugs and other illegal items.
At a press conference on Thursday afternoon, the Officer in Charge of the Georgetown Prison, Superintendent Kelvin Pilgrim said that when it comes to smuggling items in to the prison, it is a case of "where there is the will, there is the way".
He said he would not deny that the prison system is plagued with corrupt officers. According to Pilgrim, there have been cases in which parcels were hurled over the walls of the Camp Street jail yard. He noted that the prison authorities have been stepping up their monitoring of the outside of the prison walls to stamp out that problem.
There have been cases also where persons would smuggle phones in to the prison in food. He explained that prisoners would only be allowed two calls per week to their families and many find that inadequate, so that may be the reason behind the increase in smuggling of cellphones.
Public Security Minister, Khemraj Ramjattan while expressing regrets to relatives of the dead prisoners, said the overcrowding situation at the Georgetown Prison will be addressed. He said while there are no plans to build a new prison, the government will look at out of town prisons and make a decision to relocate some prisoners.
The Georgetown Prison was built to accommodate 600 prisoners. There are more than 950 prisoners currently housed in the facility.