The Guyana Defence Force will wrap up its annual officers conference today at Base Camp Ayanganna. The meeting opened on Thursday with President David Granger telling senior and junior army officers that the GDF must always be at the ready to defend the motherland.
He said more reservists must be deployed to all 10 regions in the country to support officers and be the eyes and ears of protection.
"Guyana's borders are too extensive, its land space is too expansive and the cost of maintaining large regular units too expensive to maintain effective territorial and coastal security. The surveillance and securing of our territory demands that the Force have a physical presence in each administrative region in the form of part-time reservists. The 'reserve force' will support the 'regular force," the President said.
He noted that Guyana remains committed to non aggression and the principle of peaceful settlement of disputes, pointing out that diplomacy must be supported by a strong Defence Force.
According to the President,"These recent expressions of support for Guyana's territorial integrity emanating from regional and international organisations follow a series of similar statements which have served as a deterrent against neighbouring aggression. Guyana will continue to pursue diplomacy to advance relations within the international community and to secure its vital national interests, including defence against external threats"
The meeting has been examining national security strategies and examining the development of the GDF.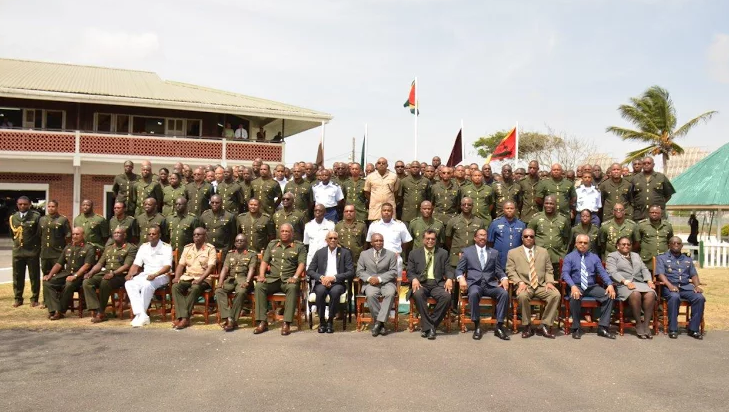 The President also spoke of the country's responsibilities under the various regional and international treaties and agreements to which it is a signatory, noting that these agreements have been the bases of the Guyana's defence engagement in the Caribbean, particularly in the areas of disaster relief and humanitarian assistance.
Over the years, Guyana has provided military and humanitarian support to sister-CARICOM countries as well as several peace-keeping missions.
"Defence diplomacy has fortified the country's international posture… Diplomacy has allowed the Guyana Defence Force to enhance its capabilities through training and the receipt of equipment from foreign forces and governments," President Granger said