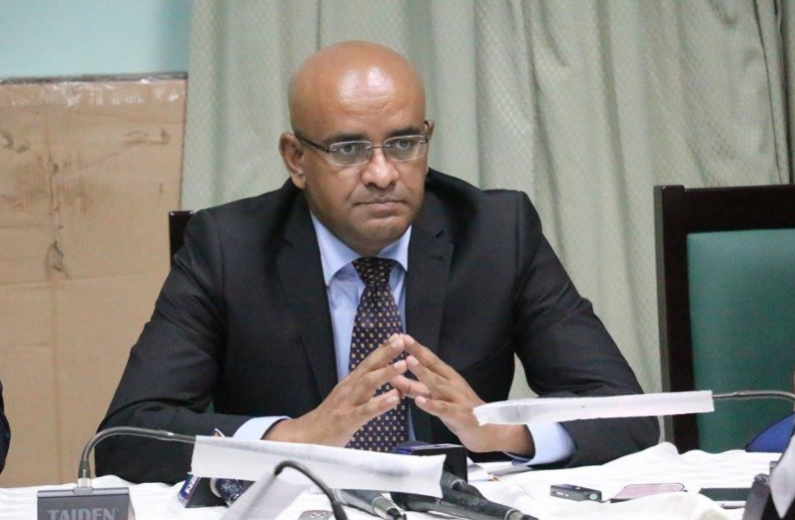 Minutes after Finance Minister Winston Jordan wrapped up his 2018 budget presentation, Opposition Leader Bharrat Jagdeo, wasted no time to describe the budget as "unimaginative and torturous."
Jagdeo and the Opposition People's Progressive Party had refused to participate in the budget consultations, but instead released a list of measures they wanted to see.
At the post-budget press conference this evening, Mr. Jagdeo was very disapproving of the government's move to grant amnesty to delinquent taxpayers who are outstanding in the filing of true and correct taxes with an option to file those taxes and have their interest and penalties waived.
The Opposition Leader questioned "why now?" as he speculated that the move by the government may be to help particular companies to have interest and penalties written off.
"If people have taxes outstanding and they have the interest to pay then they should pay their interest why the sudden change of heart, it smacks of personal deals," he said.
The Finance Minister said the amnesty extends to corporate and individuals and takes effect from January 1st, 2018 through September 30th, 2018.
In an almost one-hour rant, Jagdeo said the 2018 fiscal plan is characterized by lower economic growth, more taxes, and old projects among other negatives that do not augur well for the future of the country.
"It has failed on every standard… there is nothing here that inspires, there is nothing to say to any group of Guyanese that I have a better year to look forward to," Jagdeo said of the $267.1 budget as he hurriedly assumed a highly critical stance against the document and slammed Jordan on his announced measures.
In his initial comments, Jagdeo said Minister Jordan lived up to the low expectation and accused the Minister of basically reading out the work program of every ministry to the nation and backpedaling to reverse several measures in the 2017 budget.
"Work Programs were elevated in the National Assembly to plans. So, we hear about duplexes being build and titles being issued… we hear 100 families benefit from drainage project. This sort of detail including which building to be painted and of wheelchairs for persons at the palms," he added.
The Opposition Leader said the People's Progressive Party was hoping that the Minister would have addressed key areas of concern, "but he has failed on every one of parameters which include jobs and welfare, growth and development and clarity of the government's vision and where the country is going," Jagdeo told reporters.
Focusing his attention on the reduced growth rate, Jagdeo said the failure to achieve projected growth shows the government's failure to ensure the economy performs as promised.
He said the Minister also promised no new taxes but the government is likely to move in implementing measures at the local level that will see Councils being pushed to increase taxes and tax collection.
Jagdeo promised greater detail on his impressions of the 2018 budget at a later date.