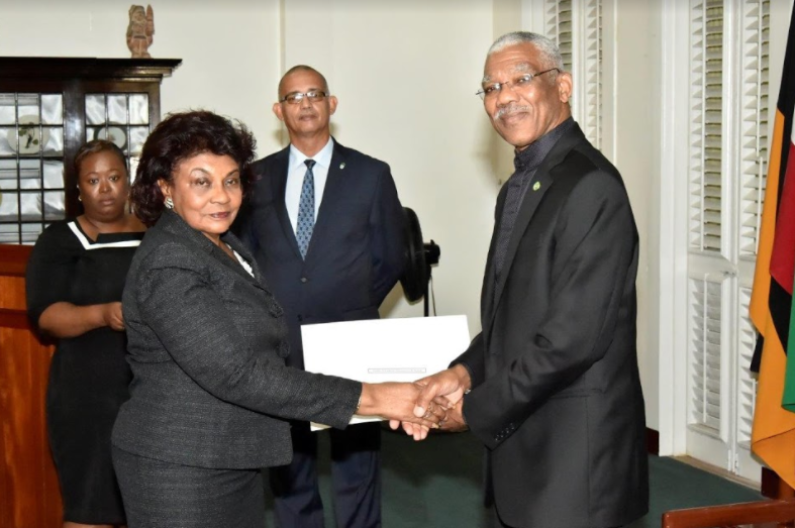 President David Granger, today, presented to Justice Claudette Singh, her Commission of Appointment as Senior Counsel. Justice Singh was named among the nine legal practitioners to be vested with this honour. However, she was unable to attend the ceremony last week when peers were awarded 'Silk', as she was overseas.
With some 40 years of experience, Justice Singh is one of the only three women to be appointed Senior Counsel in history of Independent Guyana. She was called to the Bar in London in 1973 and admitted to the Bar in Guyana in 1976. Justice Singh served as the Deputy Solicitor General and as a Puisne Judge and a Justice of Appeal. During her tenure at the Chamber of the Attorney General (AG), she spearheaded the Modernisation of the Justice Reform Project and is currently serving as the Guyana Police Force's Legal Advisor.
In his brief remarks, President Granger told Justice Singh that, "I personally find it unacceptable that in 50 years of independence we could not find a single female attorney to bestow silk. I am aware of the quality of your work, the quality of work that was achieved in the Guyana Association of Women's lawyers, the Chambers of the Solicitor General, the DPP's [Director of Public Prosecution] Chamber and the AG's Chambers. I have no qualms about the awards."
The Head of State said that ensuring that these appointments, which were last made in 1996, are presented to deserving candidates on an annual basis, will have a positive impact on the rest of the profession, as young lawyers will work to make sure that their conduct is in keeping with the criteria set out for Senior Counsel appointment.
"The public as a whole must understand that in years to come juniors will become seniors and people will learn to achieve and acquire the criteria that has been laid down and that is integrity, knowledge of the law, performance in their professional duties, the experience that they bring to bear in their duties and their commitment to their social responsibility… the average length of practice for each recipient is 37.5 years in years to come it will be reduced, but juniors must understand that they have to serve and accumulate experience. It is not some benefit that you give out like a Christmas present. People have to work for it," he said.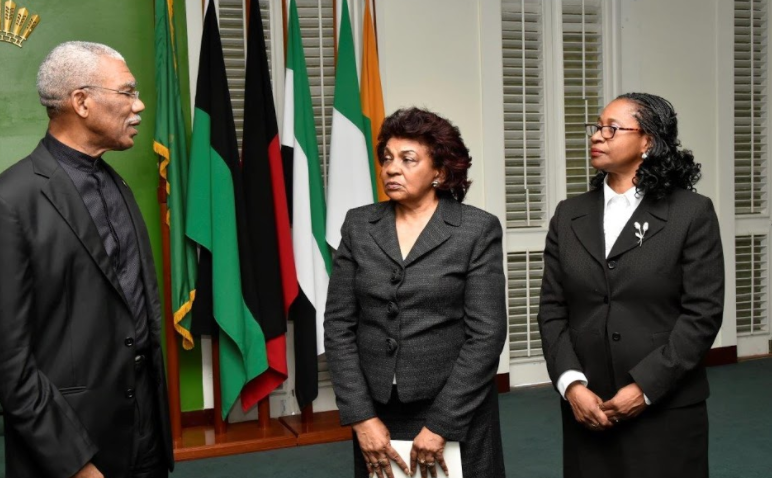 Similar sentiments were expressed by Justice Singh who said that the elevation to Senior Counsel is something to aim and strive for; noting that in order to achieve this honour, integrity, professionalism and experience are the watch words.
She also spoke of the responsibility that comes with being a Senior Counsel in that they must assist the court and set an example for their juniors to emulate. "Every Senior Counsel should endeavour to see that there is public respect for the administration of justice," Justice Singh said.
Speaking about what this new status means for her personally, she said that it comes as a pleasant surprise as she did not anticipate that she would have been included in the list of recipients for this honour.
On January 4, President Granger presented this honour to eight other members of the legal profession. Among them are: Attorney General, Mr. Basil Williams, Justice Roxane George-Wiltshire, Ms. Rosalie Robertson, Mr. Neil Aubrey Boston, Mr. Charles Fung-A-Fat, Mr. Clifton Llewelyn John, Mr. Rafiq Khan and Mr. Vidyanand Persaud. Their average individual service to the country is 37½ years and their accumulated service is 338 years.