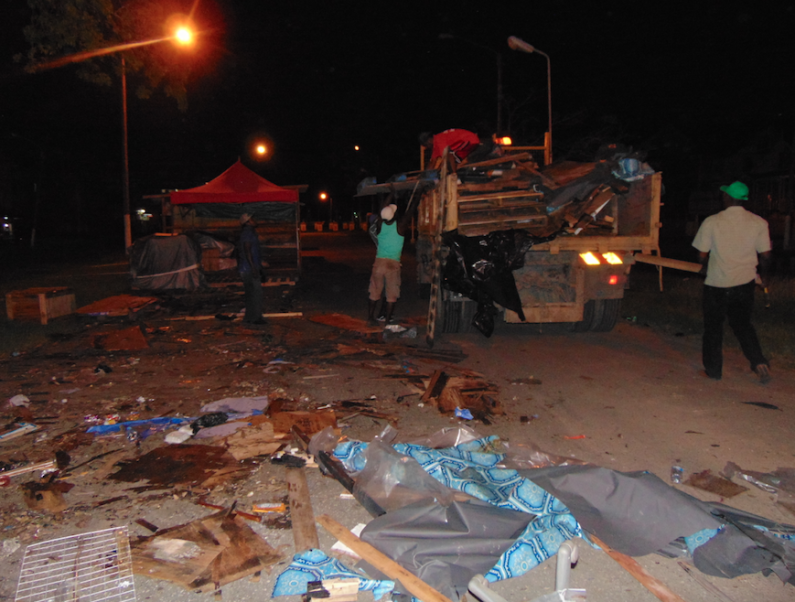 The Georgetown City Council on Wednesday night cleared out several temporary stalls from the Merriman's Mall area between Cummings and Light Streets.
The move came just days after City Mayor Patricia Chase-Greene, warned the beauticians and barbers who ply their trade in the area to shape up or ship out.
Town Clerk, Royston King moved in on the area with Council workers and two large trucks to remove some of the stalls.  He said the only stalls that they were removing were the abandoned ones and those that the vendors have left in a dilapidated state.
He explained that last May, the beauticians and barbers who previously worked in the Stabroek square and on city streets, were allowed to move to the Merriman's Mall area. The Council provided new tents and the vendors were asked to pay $1000 per week as a rental for the space but would have to keep it clean.
King said over the past months, many of the vendors have erected their own makeshift stalls with old wood and vinolay and have left the area looking like a shanty town.  He said there have repeated efforts to get the vendors to keep the area in a better state, but just a few of them complied with the request.
He said those who keep their their surroundings and their tents clean will be allowed to continue in the area until a permanent solution is found.
Some vendors who turned up in time to remove some of their belongings complained that they should have been given more time.  Others said only a small group of the vendors kept their surroundings tidy and others even moved from the area leaving some of their belongings behind.