A two year old decision by the Georgetown Mayor and City Council (M&CC) to renovate and repair the dilapidated but historical Kitty Market has begun to take shape.
In 2013, the historical building was listed among 40 registered derelict structures in Georgetown by the Guyana Fire Service.
Works on the market commenced just over two week ago under the supervision of Town Clerk Royston King.
The Town Clerk told News Source on Thursday that the works are being conducted at an estimated cost of $240 million.
"But a check on the structure over the last week suggests that we might not be using so much to do the market. It might be half of that amount," he explained.
King said the decision was made by the Council while Carol Sooba held the position as Town Clerk but it was never acted upon, all while vendors continued to lament neglect.
Mr. King explained too that the repairs will include some additional changes to the market but assured that the architectural integrity of the building will be maintained. "We are not interfering with the historical facade but our own investigations suggest that the building is structurally sound and all we need to do is restorative work," he added.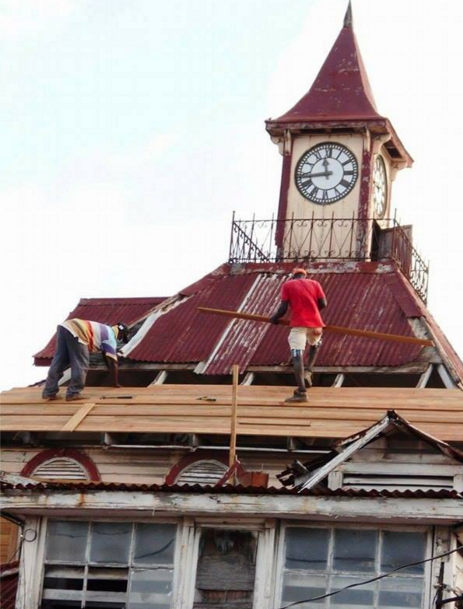 The Town Clerk said the works are expected to be completed within another two months after which the market will be reopened fully to vendors.
Vendors are currently being housed in the western section of the building. "Once we complete the works, the vendors will be able to move back to their original positions," he added.
King said a budget has already been passed at City Hall and will be published in the near future, detailing other upgrades for markets around the city. Vendors who have occupied the building for years and continue to pay rental for their stalls have been lobbying the M&CC to upgrade the  market. (Kurt Campbell)