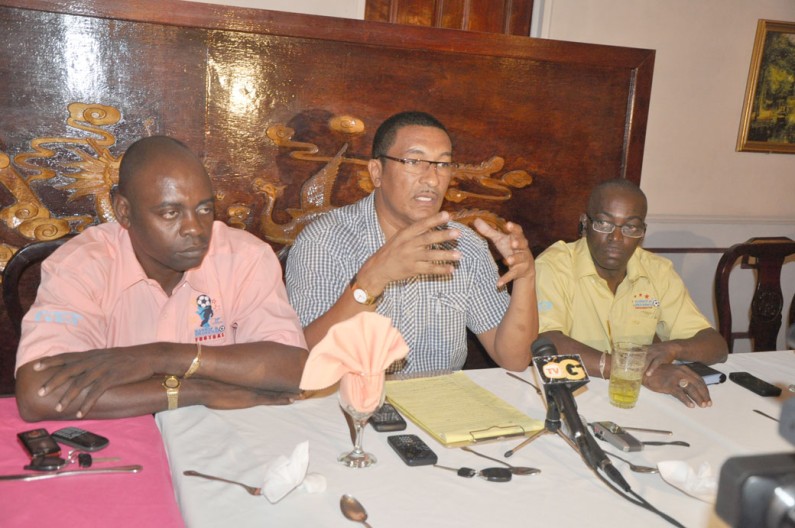 After 23 years as the leading promoters of football in Guyana, the Kashif and Shanghai Organisation has decided to bow out of the annual Christmas season tournament and instead focus its attention on a nationwide School's tournament.
The confirmation of the decision by the Kashif and Shanghai group came on Wednesday, the same day that Guyana was celebrating the visit to the country of the FIFA World Cup Trophy.
The decision by the football promoters came in the height of a row with the Guyana Football Federation over the Federation's decision to have all private promoters incorporate their tournaments with a sub-association of the GFF.
The Kashif and Shanghai Organisation was not able to convince a number of the sub associations to join forces with them to promote the tournament.
The only sub association which appeared willing to take on the challenge was the Women's Association and that association has been hardly visible in recent years.
Director of the Kashif and Shanghai Organisation, Aubrey Shanghai Major told News Source that the organisation now intends to put all of its energy into the school's tournament and make it the biggest football tournament that Guyana has ever seen.
He explained that many countries are moving to support school's tournament more because that is where the talent could be nurtured.
Mr. Major said there will be an official launching of the school's tournament on Thursday, October 31.
One of the other Directors, Kashif Mohammed, has not been hiding his disappointment with the way the Guyana Football Federation was treating his organisation. He had complained that the GFF was changing the rules and moving the goal posts to make it more difficult for his organisation to pull off its annual year end tournament.
He said it appeared as though the GFF was prepared to give both the K&S Organisation and the Georgetown Football Association the green light to host dueling tournaments at the end of the year. In his view, that did not make much sense since K&S would still have to seek the permission of the GFA to release the Georgetown teams for his tournament which would have been competing against their own tournament.
The GFA began hosting a competing tournament back in 2011 and the Kashif and Shanghai Organisation took a serious hit in attendance and support. The organisation was prepared this year to increase the prize money and team allowances for the tournament.
The Kashif and Shanghai Organisation is credited with lifting the standards of competitive football in Guyana. The tournament began in the mining town of Linden and remained there for a number of years until the organisation decided to move the finals and most of the major games to the city as they believe the tournament had outgrown its hometown.
Details of the new school's tournament are to be released soon.