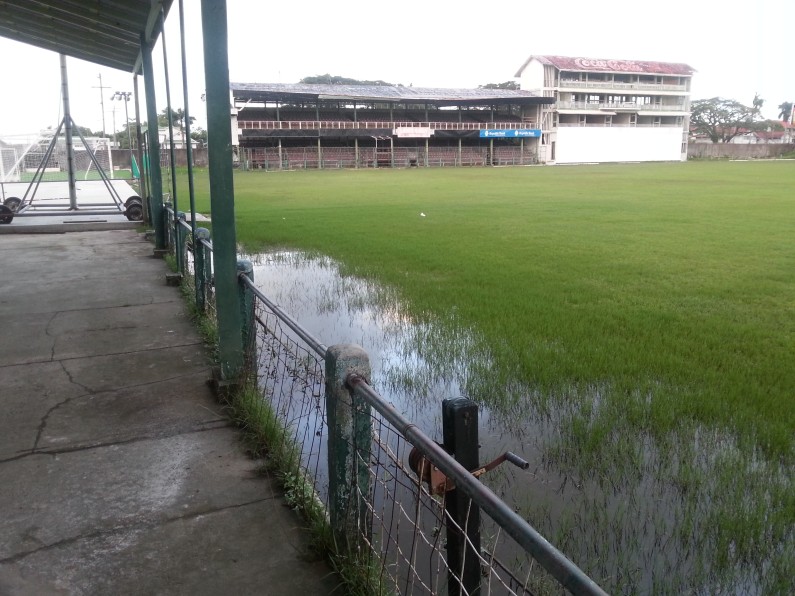 Heavy rainfall over the past week coupled with a soggy ground has forced the Georgetown Football Association to  postpone the finals for its GFA/Banks Beer tournament which was scheduled for January 1 at the GCC Ground Bourda.
The development clears the way for one major senior football finals on New Years day and the Upper Demerara Football Association will now take centre stage with the finals of its tournament on New Years Day in Linden. There was a fallout between the Guyana Football Federation and the Upper Demerara Football Association as the UDFA chose January 1 as the date for the finals for its own tournament in the bauxite town.
The GFF had decided that there should be only one senior tournament finals on New Years day and opted to give the Georgetown Football Association preference.
Now that the heavens have forced the GFA to postpone its tournament, the Linden tournament is expected to proceed as planned with its New Years day finals at the Mackenzie Sports Club ground. But even without the new development, Linden appeared all set to defy the GFF and move ahead with its finals.
The Georgetown Cricket Club has confirmed that no football finals will take place at the Bourda ground on January 1, 2014.
GCC President Lionel Jaikarran told News Source that the ground at the Bourda facility is very soggy as a result of the heavy rainfall and there is the need to protect the ground especially the pitch.
He said the organisers of the football tournament could possibly host the tournament finals at the same venue once the weather holds.