President Irfaan Ali has urged large scale contractors not to bid for small regional projects explaining that such a move would not only deprive small scale contractors of contracts but would also have an impact on the business model of large scale contractors
The President said while he has no problem with contractors having multiple contracts, he has an issue with there being a lack of understanding that contracts have to be done simultaneously and the allocation of resources, allocation of material, human financial, and material resources.
"If you are a tier-one contractor, and you want to spend the time to allocate resources on a $5M project, you will bust. You will not be able to efficiently implement or achieve your outcome," the President said.
Mr. Ali also urged contractors to increase their human resources and machinery capacities noting that some contractors have been working without an engineer on-site despite having them listed as personnel on bid documents. This, the President said, will be addressed with a new contract and with a clause that will now recognize the qualification of someone who can sign off on their work.
"If you are playing at a certain level, you have to be willing to make the investment to allow you to be competitive and efficient at that level. This is where the country is heading. You have to build your night capacity; otherwise, you will fail," the President told the contractors.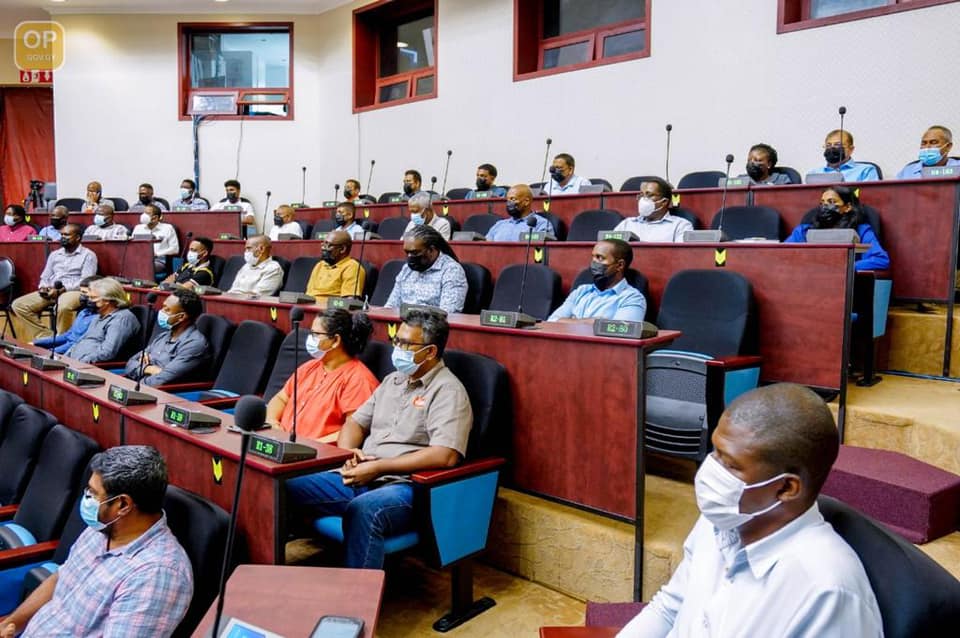 The President also said that the quality of the projects will be comprehensively spelled out in the bid documents and that there will be a clause of what is the contractor's responsibility for a specified time.
He said that this is necessary for clarity moving forward. He noted that it is important for contractors to correct their shortcomings if they are to be considered for future contracts.
"There are two ways you address this; the first is that you adopt a winning culture, or the second is for you to stay where you are, be happy, and slowly be pushed out of what is happening. To adapt, you have to invest. You have to grow yourself in quality, in equipment and understand what is coming at you", the President urged.
Mr. Ali's meeting with the contractors yesterday came on the heels of his administration coming in for harsh criticism over the issuance of several contracts in the past months.