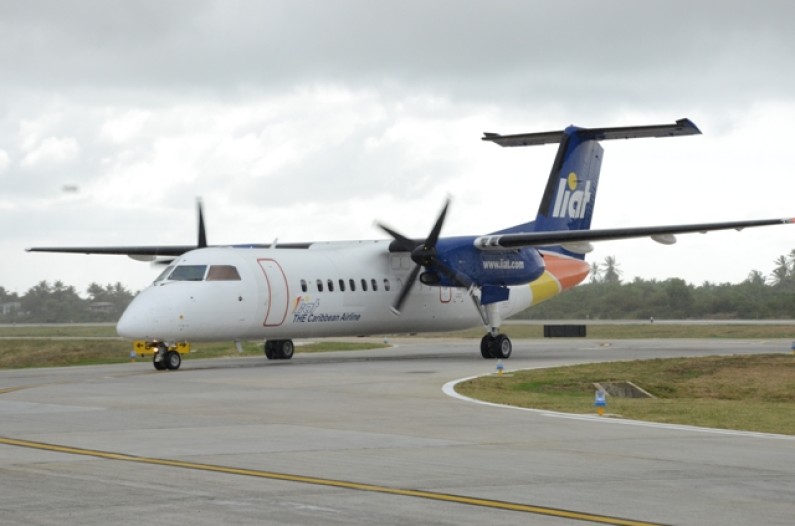 Regional carrier LIAT will be celebrating its 59th anniversary this week with a massive seat sale that will see travelers across the region benefiting from discounts of 59% on their tickets.
In a statement, the company said ticket sale will run form 1:00pm on Wednesday October 14 to 11:59pm on Friday October 16.
"The discount is not combinable with other promotional discounts currently on offer", the statement added.
According to LIAT. the tickets which are purchased under the birthday discount must be used between October 14 and November 30, 2015.
 Tickets can be booked on the website – liat.com, through the Call Centre, Airport Ticketing Offices or through your local Travel Agent.
The company said seats are subject to availability and promotional terms and conditions apply.
 The Chief Executive Officer of LIAT, David Evans said the company is honoured to be of service to the Caribbean region for 59 years and it is only fitting to give back to the region with the 59% off 59th Birthday Discount.
LIAT, then an acronym for Leeward Island Air Transport Ltd., was founded in Montserrat in October 1956 by St. Kitts born Sir Frank Delisle.
The CEO said LIAT has grown over the years and is now the main mode of transportation for people travelling between the islands.
"From a single Piper Apache aircraft in 1956, we now use nine state of the art ATR 600 series aircraft to fly thousands of people a year to 17 destinations around the region," Mr. Evans said.
 He added that "our loyal and dedicated staff have built an airline that, after 59 years, is still committed to the region; an airline that focuses on providing convenient air transport connections to the countries we serve."
LIAT operates more than 500 flights per week across the Caribbean.
The company currently offers daily flights from Guyana's Ogle International Airport to Trinidad and Barbados with onward connections.