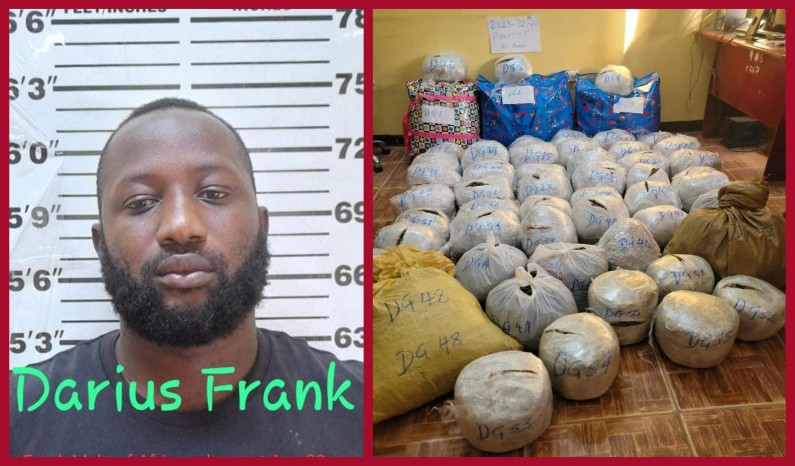 Linden farmer, 29-year-old Darius Frank, who is also a Policeman who has been interdicted from duty is facing serious drug trafficking charges after he was nabbed with 113 pounds of marijuana.
The Police said the busted marijuana carries a street value of $15.4 million.
Frank appeared in Court on Friday before Magistrate Wanda Fortune and pleaded not guilty to the drug trafficking charge.
The Court was told that on 22nd February at Nottinghamshire in the Upper Demerara River, Region Ten, the farmer was busted with the large quantity of marijuana.
A party of Policemen were reportedly heading back to Linden from Ituni in connection with an unrelated investigation when they noticed the interdicted Policeman driving a car along the Ituni trail. An attempt was made to pull the man over, but according to the Police, he sped away and they were forced to gave chase.
One of the Police vehicles crashed during the chase and officers on motorcycles reportedly continued after the vehicle being driven by frank.
The man was reportedly spotted throwing several parcels from the vehicle. He was eventually stopped and the packages thrown out of the vehicle were retrieved.
Frank was taken into custody and the items that were reportedly thrown from the vehicle were picked up. Those items turned out to be several packages of marijuana weighing over 100 pounds.
The Police said the following day, they returned to the trail where the man had been seen exiting, and another large quantity of marijuana weighing more than 200 pounds was found.
The suspect maintained his innocence of the drug trafficking charges during his Court appearance on Friday, but was remanded to jail