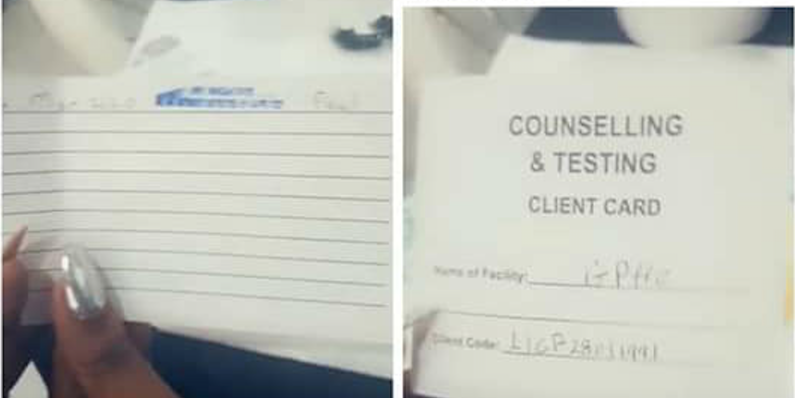 A probe conducted by the Georgetown Public Hospital has found that a Counseling and Testing card that was paraded on social media by beautician Lolita "Lola" Callendar did not originate at the Georgetown Hospital and was not an authentic document.
The Chief Executive Officer of the Hospital, retired Brigadier George Lewis made the confirmation to News Source today. He would offer no other details about the probe.
News Source has learnt that following the findings of the probe by the Georgetown Hospital, the National Aids Programme Secretariat conducted its own investigation.
The fake testing card has been traced to an HIV Counselor/Tester who works under NAPS at the National Care and Treatment Centre.  It is suspected that he may have provided the blank card, thereby allowing false information to be inputed. 
The same Counselor/Tester also worked at a non-governmental organization that is involved in the fight against HIV/AIDS.
His contract with that organization ended in December, News Source has learnt. He would have had access to the HIV test cards at both workplaces.
There are reports that the Counselor/Tester is likely to be suspended by the National Aids Programme Secretariat before facing possible dismissal and charges.
News Source made repeated efforts to make contact with the Programme Director of NAPS, Dr. Ronda Moore, but we were told that she would first have to get the permission of her Permanent Secretary before even taking a call from a media representative.
The Permanent Secretary of the Public Health Ministry could not be reached as we were told that she was engaged in meetings with a foreign delegation.
The issue of the fake HIV test card was raised on social media a few months ago after the beautician posted with the card with the negative result claiming that she had obtained it from the Georgetown Hospital.
The card was quickly flagged on social media as fake by some workers of the Georgetown Hospital who recognized that instead of a stamp with the Georgetown Hospital's name, the name was written on and the name of the tester who signed the card was not someone known to the hospital.
The beautician returned to Guyana a few months ago after serving a jail sentence in Tortola for faking an HIV test in the island.