The Guyana Prison Service has reported that the situation at the Lusignan Prison has returned to some level of normalcy following an attempt by several inmates to break down several areas at the jailhouse last evening.
In a statement, the Ministry of Public Security explained that the riotous behaviour by the prisoners started just after 4pm yesterday. Some of them hurled missiles directly at prison officers and caused damage to a section of the fence of the holding bay.
The Ministry said several attempts were made by officers and ranks to enter the location with the use of shields, but the large number and size of the missiles caused them to retreat to a point of safety.
The prisoners continued to throw various missiles damaging four (4) perimeter lights as darkness approached.
They also started to set fire to items including mattresses and pallets and those were placed along the inside of the fence.
The fires caused damage to the monitoring room with the CCTV cameras.
Officers eventually used rubber pellets in their effort bring the situation to an end. When that did not work, live rounds were fired in the air.  Eight prisoners were hit by the pellets and had to be taken to the Georgetown Hospital. Those who have been discharged have since been sent to the Georgetown Prison.
The eight (8) prisoners who were injured are, Cleveland Williams, Lester Joseph, Teaive Cush, Raymond Jones, Corwyn Artur, Anirudh Prashad, Lakeram Singh and Lexroy Rigby. Six (6) were escorted to Georgetown Public Hospital Corporation where they received medical attention and was later sent to Georgetown Prison, whiles two (2) received medical attention on location.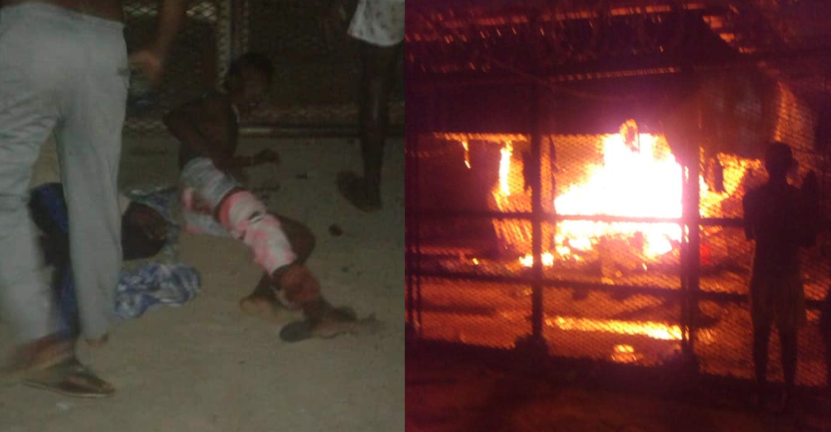 The joint services were forced to step up security around the prison as the prisoners continued with their threats. Late last night, everything was returned to a level of calm after the Director of Prisons visited the facility.
Some of the prisoners complained about the quality of the food being provided to them and also their living conditions.
The Lusignan prison is currently housing over 500 inmates. Many of them are prisoners on remand. Not all are housed in the prison buildings. Because of the fire that ripped through the Camp Street jail last year, a large number of prisoners were moved to Lusignan and temporary holding areas were built.  That has put a strain on the prison.
Today the Prison Director was back at the facility and used his time there to sample some of the food being provided to prisoners.