The mining community of Mahdia now has its own radio staion and according to Prime Minister, Moses Nagamootoo, Radio Mahdia represents "a journey complete and a promise fulfilled."
The Prime Minister was in the Mahdia community on Sunday for the official turning on of Radio Mahdia 95.1FM. 
During an address to launch the station,  Mr. Nagamootoo said Radio Mahdia will "reflect the pride, culture and way of life of the community." He urged residents and regional officials to care the radio station and ensure that the community receives the full benefits it has to offer.
The Prime Minister noted that students will be more aware of programmes in the education sector, miners will be made aware and sensitised about mining practices, and residents will keep abreast with the latest information on the Guyana / Venezuela border dispute.
He reminded residents that it was President David Granger, who on assuming office, gave the directive to ensure that hinterland communities were connected to the coastland. He declared that "Radio is important …to remind us of who we are, Guyanese in respective of our ethnicity. We are first and foremost Guyanese and our Guyana all 83,000 square miles belong to us".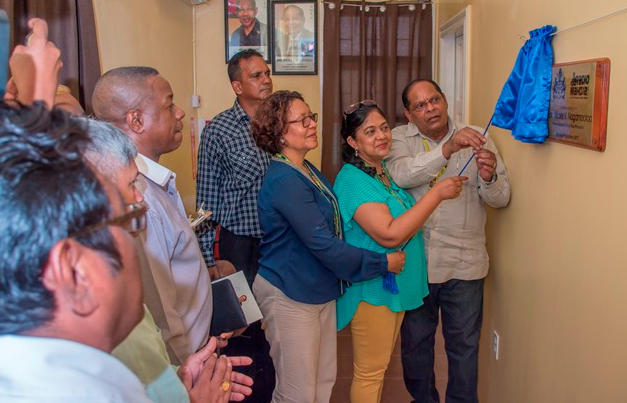 Regional Chairman of Region Eight, Bonaventure Fredericks, described the launching as a historic one. He remarked that "Radio Mahdia is a wonderful initiative, something that we have been longing for" since the community has been hungry for knowledge and information. He added that with the radio station, the community will be updated with information as it unfolds.
Over $21 million was spent in establishing the Radio Station. It will air content from the National Communications Network, while the local announcers are being trained.
According to Chief Executive Officer (CEO) of the National Communications Network (NCN), Lennox Cornette, Radio Mahdia represents a significant milestone in Guyana's public information infrastructure for the electronic media. He said the commissioning of the radio station is part of a bigger project that will see four radio stations being established by the end of the year.