More training for frontline Trafficking in Persons (TIP) responders are in the pipeline as Guyana continues its fight against the problem and as there continues to be increases in the number of suspected trafficking victims crossing over into Guyana from neighbouring countries to work in the mining districts.
On Tuesday morning, mines workers from the Guyana Geology and Mines Commission (GGMC) commenced a two-day training programme to better position themselves to detect and refer these cases in Guyana's interior and mining districts.
Coordinator (acting) of the Ministerial Task Force on TIP, Oliver Profitt told NewsSource on the sidelines of the opening of the training programme, that already for 2018, Guyana has recorded 68 cases of alleged Trafficking in Persons.
That's according to official Police statistics at the end of May. Police statistics also recorded 41 alleged TIP cases in 2014, 59 in 2015, 98 in 2016 and 50 in 2017.
Profitt said even when these cases are identified, there are issues at the level of prosecution where foreign victims return to their countries or there are delays at the courts.
"Unlike human trafficking which is a crime against the state, Trafficking in Persons is a crime against the victim. So, the onus is on the victim to be there to give evidence throughout the case.," he explained.
The Coordinator said there are some proposals to make prosecutions smoother and ultimately more successful, ending in convictions.
Profitt said a lot of the suspected foreign victims are from Venezuela and the Dominican Republic. Notwithstanding this, he believes the numbers when compared to the locals are similar.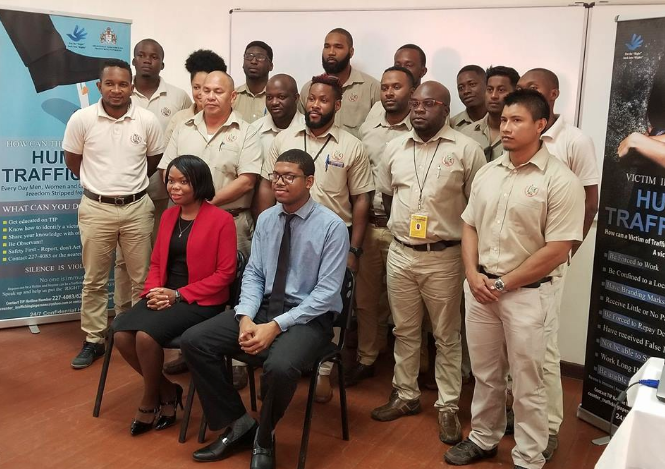 Meanwhile, Foreign Service Officer Lucresha Bryan- French also spoke about the number of foreign victims that mines officers come into contact with in Guyana's interior regions.
She said already the Task Force has done training with mines officers and other categories of persons including the media, police investigators and prosecutors.
"We want to focus on ensuring they understand the concept of the crime, be able to identify and refer victims and understand how the legislation is applied," she said.
Currently, Guyana is on the Tier One watch list of the US State Department for TIP.
Both Profitt and French are hopeful that through continued training of different categories of workers, this ranking will be improved in the coming years.