A group of concerned Guyanese who are against forced and mandatory vaccinations picketed outside the Ministry of Health today across at the Cuffy Square even as scores of persons were lined up inside to get vaccinated.
Among the protesters was Linden pastor Nigel London who started a protest in his hometown earlier this week against what he considers moves by the government to force citizens to get vaccinated.
"This is not about being against vaccination, this is a protest against persons being forced. I showed up here today and saw workers of the Ministry of Health being locked out and turned away and being told that they have to provide this test that costs about $20,000 (if they are not vaccinated) or else they will be terminated from employment. So me being here is about giving people the right to choose based on the World Health Organization's advice", London said.
While the government continues to proclaim that vaccination against COVD-19 is voluntary and not mandatory, some of the new measures that it is putting in place appear to be forcing persons to get vaccinated if they want to access government services. Pastor London said more energy needs to be on educating people about the vaccines rather than forcing them to accept them.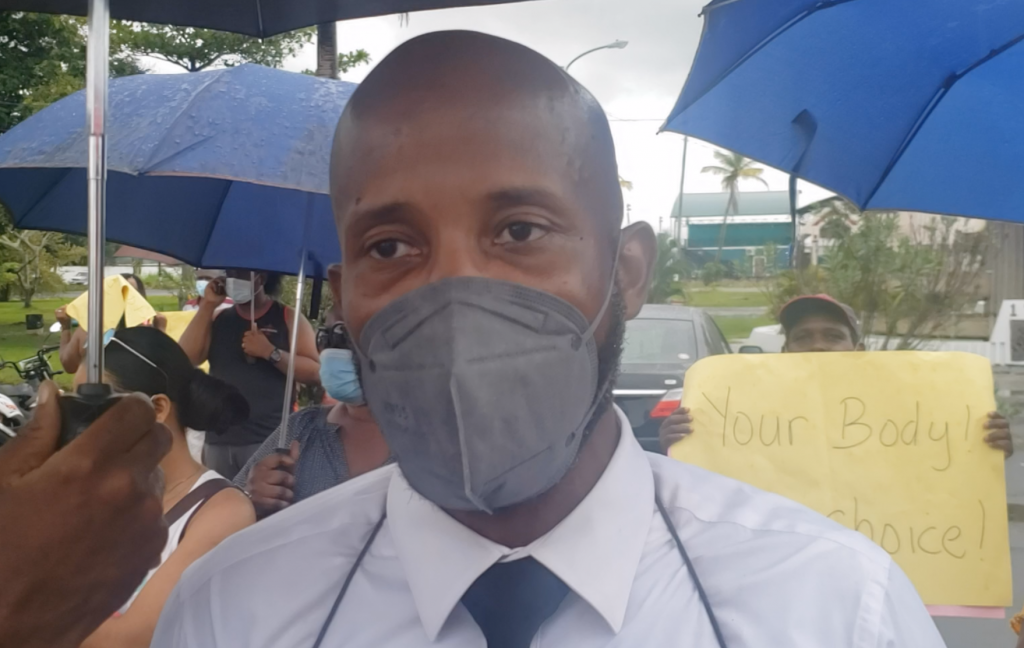 He said "if you want to mandate the vaccination then you must more than anything else push education and thereafter give assurances to the people that the vaccines are being issued mandatorily because there is a very high mortality rate which is not the case with COVID-19 and additionally they should say if there is any adverse reaction, they would have to assure the citizens that you will be compensated and you will be catered to by the Government that issued the vaccine. This is not happening in this case".
While many of the protests against some of the government actions have taken place on social media, not many persons have joined the protests. London said it is clear that persons are afraid of being victimized by the government even when they should be standing up for their rights.
Popular local actress and entertainer, Odessa Primus was also at the protest and she made known her clear opposition to persons being forced to take the vaccine.
She said COVID has already had a devastating impact on many persons and rather than putting systems in place to force persons to take the vaccine, the government should spend more time answering questions about the vaccines and getting people to understand how they work.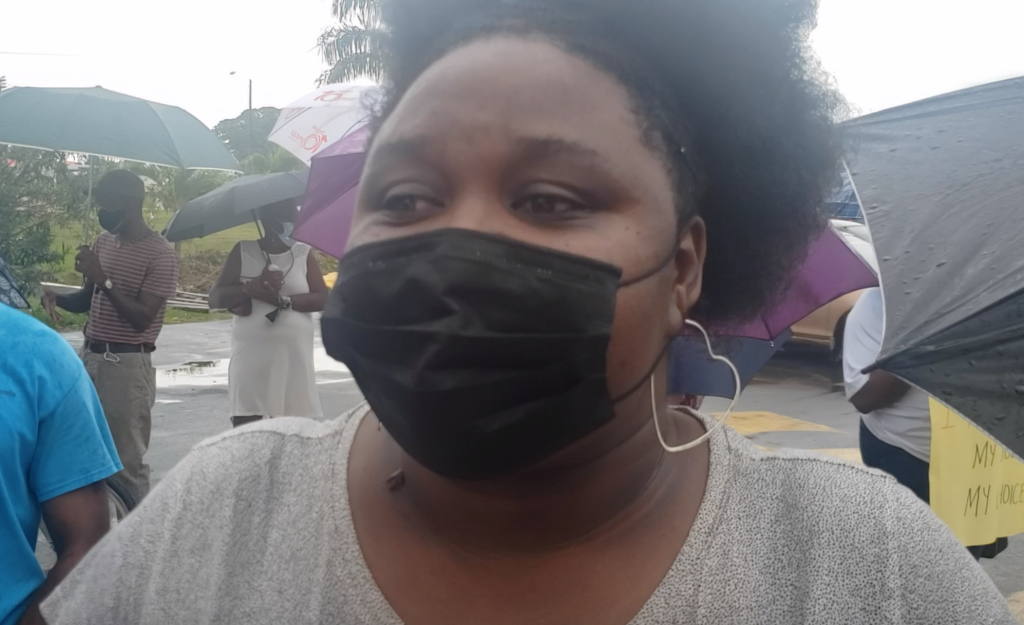 "People have concerns and rather than coming out and saying that people are stupid or their notions are stupid or their religious beliefs are stupid, I think it is important for us to have an opportunity to engage these people and to see how best you can educate them. And also be accepting of the fact that at the end of it all, it is a decision that they have to make. The difference should be that you are making that decision from an informed position, you have to know what's best for you", Primus said.
The entertainer said she is very concerned that government agencies and departments are now locking out the unvaccinated. She said that cannot be supported and should not be supported.
Since the announcement of the updated COVID-19 guidelines, the government has come under criticism for some of the measures that appear to be attacking those who have chosen not to get vaccinated.
The movement against forced vaccinations intends to continue the protest until the government changes its posture on the issue.