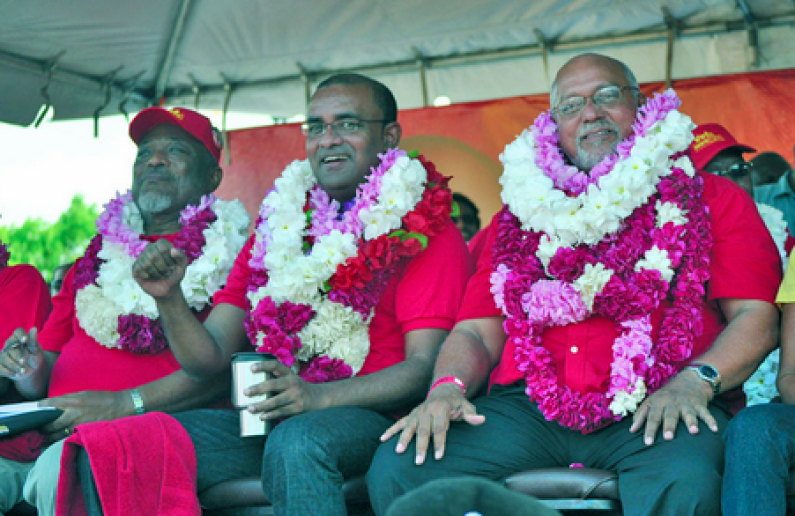 The National Assembly on Thursday, July 9, 2015, passed the Former Presidents (Benefits and Facilities) Amendment Bill 2015, effectively trimming the quantum and unlimited benefits currently enjoyed by former Presidents.
The Bill was unanimously supported by the government members in the absence of the opposition People's Progressive Party Civic, which is still to take up its seats in the National Assembly. 
The Bill's passage was preceded by a debate which highlighted the high expenditures of the former Presidents, in particular Mr. Bharrat Jagdeo who served as President from 1999 to 2011. 
Finance Minister Winston Jordan said the current benefits package was "scandalous" where former President Jagdeo utilized more than $45 million in transportation and to pay utility bills between 2011 and 2014.
Jordan said the former president recently requested two first class tickets which cost the treasury some $7 million.
The Minister drew a comparison between the benefits enjoyed by former Presidents of the United States and those in Guyana and said it shows clear "absurdity".
A former President of the US earns a taxable pension while in Guyana a former President draws an un-taxable pension.
Former Presidents Bharrat Jagdeo, Samuel Hinds and Donald Ramotar currently enjoy a pension of $1.4 million and while the Bill does not make any changes to this, it places several caps on benefits enjoyed by former Presidents.
The Bill when assented to by President David Granger, allows a capped allowance of $75,000 for water, electricity and telephone expenses each month.
The Bill also limits personal household staff of former presidents to three and clerical and technical staff to three.
Former Presidents and their children will also be subject to a financial limit of $200,000 per annum in free medical attention and treatment or reimbursement of medical expenses incurred by – a former president himself and his children below the age of eighteen years.
The Bill proposes that former presidents be allowed not more than two motor-vehicles owned and maintained by the state.
The same Bill was passed by the government while in opposition but it was never assented to by President Donald Ramotar.
Meanwhile, Vice President Khemraj Ramjattan told the House that even with this new Bill, there is still  a huge burden on the treasury.
He believes  that when former President Bharrat Jagdeo returns to the House as Opposition Leader he should not be receiving both his pension as a former President and a salary as Leader of the Opposition.