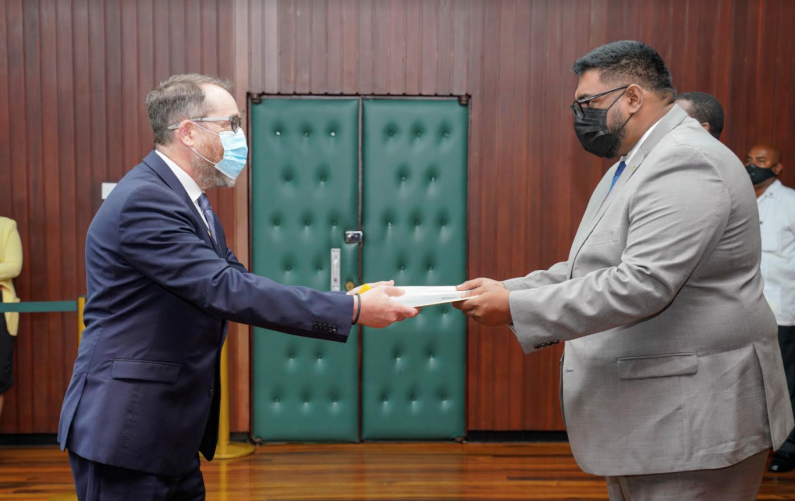 Canada's new High Commissioner to Guyana, Mark Berman presented his credentials to President Irfaan Ali this morning, promising to continue the strong and close ties that Guyana and Canada share.
The High Commissioner said he is "very proud that Canada has been here in Guyana since Guyana's Independence and before and that we continue to be present and a very vocal supporter of Guyana today. I commit to you to continue to advocate for democracy as we have done for many years and most recently during Guyana's electoral impasse and that we will continue to reiterate the importance of the will of the people".
President Ali in response reflected on the good relations that have existed between Guyana and Canada for over 50 years, thanking the Government of Canada through the High Commissioner for Canada's role in safeguarding democracy in Guyana and Canada's support of Guyana in the ongoing controversy with Venezuela.
"On behalf of the Government and people of the Co-operative Republic of Guyana, I express our gratitude for Canada's continued support for the peaceful resolution of the border controversy between Guyana and Venezuela that is now before the International Court of Justice (ICJ)."
President Ali noted too that with Guyana on the cusp of major economic transformation, new opportunities for mutually beneficial partnerships are arising, which is exemplified by the recent establishment of the Canada-Guyana Chambers of Commerce.