Newly appointed Commissioner-General of the Guyana Revenue Authority (GRA) Godfrey Statia began his first few days on the job getting acquainted with staff at the Authority's Camp Street Headquarters and at the different locations under Customs Excise and Trade Operations.
Amidst the many handshakes and light conversation, the new Commissioner-General gave the assurance of his open door policy and his resolute stance against corrupt practices which has tainted the image of the semi-autonomous organisation in the past.
He also encouraged teamwork among junior officers and their senior counterparts who he has entrusted with the authority to make even-handed decisions, but also adherence to standard operating procedures as required by the country's tax, trade and border laws and regulations.
Mr. Statia, a Certified Accountant, Attorney-at- Law and former Senior Deputy Commissioner of the then Inland Revenue Department conducted his familiarisation tour in the company of Deputy Commissioner-General Hema Khan, Deputy Commissioner of Customs Excise and Trade Operations Lancelot Wills and other seniors.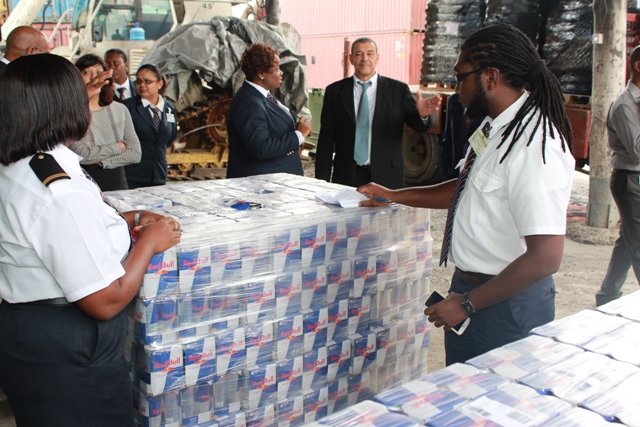 Visits were made to Q-Trex International, John Fernandes Wharf and Terminal, the Guyana National Shipping Corporation, (GNSC) the Guyana National Industrial Company, (GNIC) Muneshwers Wharf, the GRA's Goods Examination Unit and Scanner Operations at Lombard Street, the Demerara Shipping Company Limited (DSCL), Customs Boathouse, the Guyana Post Office Corporation (GPOC), the Eugene F.Correia International Airport and the The presence of Customs at these locations is mandatory, oftentimes on a twenty-four hour basis, given the frequency in movement of cargo and the tendency to smuggle.
Mr Statia was introduced to the officers on site whose duties range from examining containerised cargo and ship files, destuffing, rummaging and reporting of vessels and oil tankers.
He was updated on plans to improve some of the critical aspects of Customs operations, particularly with the peak season approaching. Facilities for improved records keeping and staff accommodation, the human resource and training needs, uniformity and promotion of officers were some of the areas targeted.
Mr Statia officially commenced duties on Monday July 25. He is also scheduled to venture off to the different regions in Guyana where GRA offices are located.
As outlined by the Revenue Authority Act of 1996, the Commissioner General "who shall be the Chief Executive of the Authority," is responsible for the day to day operations of theAuthority, the management of its funds, property and affairs and the administration,