Recently appointed Senior Vice President for Strategy and Corporate Affairs at Guyana Goldfields, Perry Holloway, is reassuring Guyana that the Canadian company is doing well and will continue to expand its operations in Guyana, as it seeks to further develop its gold mining operations.
Guyana Goldfields is a Canadian company. It currently has the largest gold mining operation in Guyana. Recently the company announced major changes to its management structure. The Country Manager's position became redundant, one of its two offices was closed and Halloway, who is a former US Ambassador, became one of the companies senior officials.
All of that took place while there were also major changes by the company's board to the top position of Chief Executive Officer.
In an interview on the "Jumpstart Morning show" today, the new Senior Vice President, Perryy Holloway explained that the company has been going through re-organisation.
"We've been going through a re-organisation, a restructuring and that included combining our two offices in Guyana and our longtime country manager, Ms. Smiith, has left the company now, so that is just part of our restructuring and re-organisation and it is not an indication that the company in any way suffering. In fact, we are continuing to produce at basically the same pace as last year. Some months and quarters are betters than others, but the amount of rock that we are crushing is on the increase", he said.
Holloway noted that with recent hires and promotions, the staff complement at Guyana Goldfields is now up of 96% Guyanese. He said that is part of the local content make up that cannot be denied.
The Senior Vice President said "We have no plans of reducing or anything like that, in fact if we begin to go underground that could lead to more jobs.".
The company's efforts to begin its underground operations were halted as the Environmental Protection Agency was still reviewing its application.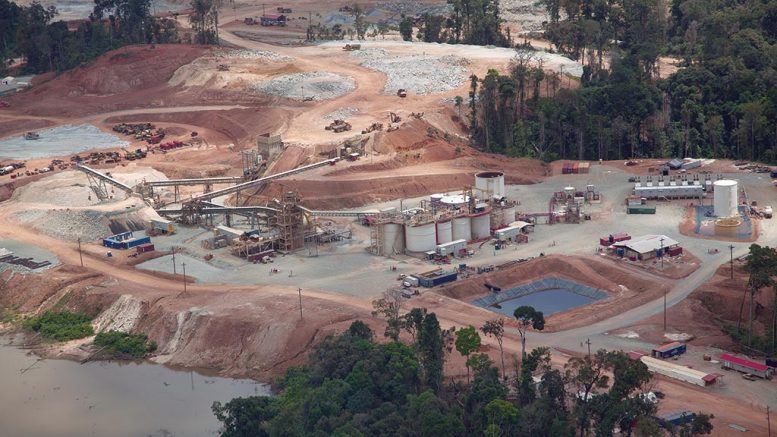 "There was a misunderstanding on our part, because we think we had permission to begin to at least open the portal. to begin to prepare for underground, but apparently we did not. We apologised to the EPA for misunderstanding that we had it, but we have now turned in all the paper work, we've provided them with all the information that they need and our hope within the coming days or weeks, is that we can get the green light so that we can proceed with the underground mining", Halloway said.
The former US Ambassador said that as part of his job, he intends to interface more with the government and other agencies that relate to the company's operations. He said Guyana Goldfields also intends to continue to look at the development of the Region Seven area, where it is located in the Essequibo.
Questioned about whether the company has concerns about Venezuela and its claims to Guyana's land space and maritime area,  Mr. Holloway said the company has been paying attention, but is not worried, since Guyana has been doing the right thing with its approach to the international community on the issue.