With a pledge to ensure that the Judiciary remains independent and impartial, President David Granger on Wednesday administered the Oath of Office to four new High Court Judges and elevated a sitting High Court Judge to the Court of Appeal.
Family members and senior members of the judiciary gathered at State House to witness the swearing in of Attorneys, Simone Morris-Ramlall, Damone Younge, Sandil Kissoon and Gino Persaud as new Judges.
Justice Rishi Persaud has been appointed to the Court of Appeal. He will now join Chancellor Yonette Cummings-Edwards, Chief Justice Roxanne George Wiltshire and Justice Dawn Gregory-Barnes on the Court of Appeal.
President Granger stressed the need for the new Judges to serve with integrity, impartiality and independence.
He said "the independence of the judiciary must be sustained", adding that "the Executive stands against the perils of interference and will ensure the protection of the judiciary".
The Head of State was also keen to reiterate the importance of separation of powers. He said if the judiciary and the state fail to achieve this, then the liberty of the judiciary will only come under threat.
"The Judiciary must be unbiased, unblemished and unbribable. The Executive have no interest nor would it condone interference in the judicial system," he added.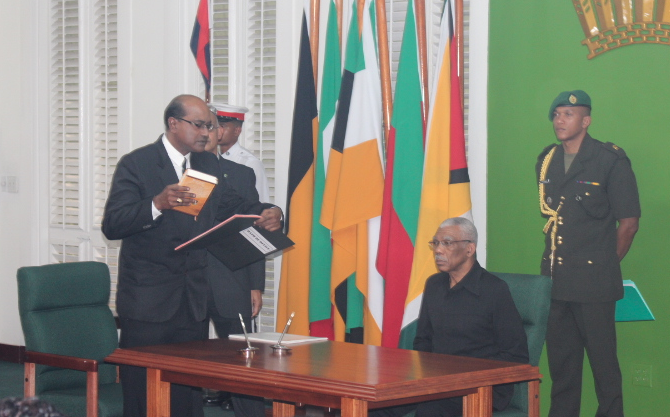 He said the appointments were made following recommendations from the Judicial Service commission and signals the government's commitment to ensuring that vacancies within the judiciary were filled with "fit and proper" individuals.
The President believes that these appointments will ensure that legal controversies will be settled in a lawful fashion.
He asked the new appointees to ensure that they continue to exemplify the high standards of the judicial system.
The new appointments come more than a year after recommendations were offered by the Judicial Service Commission.
President Granger had indicated that he wanted the new Acting Chancellor to look at the recommendations before he went ahead with the appointments.
The appointment of the new Judges is expected to greatly assist in the easing the backlog of cases that have been bugging the court system for a number of years.