While recommitting to ensuring the protection of judicial independence, President David Granger on Wednesday presided over the swearing in of two female Jurists as Court of Appeal Judges.
Chief Justice (ag), Roxanne GeorgeWiltshire and Justice Dawn Gregory-Barnes took their Oath of Office at State House in the presence of other senior government functionaries, the Chancellor and other members of the Judiciary and their family members.
The appointments were made by the President following advice from the Judicial Service Commission.
The recommendations were made following a meeting on April 20th where the JSC found favour in the performance of the two women and unanimously endorsed their appointment.
The appointment now brings the compliment of Appeal Judges to four. There is still an opening for one additional Court of Appeal Judge.
Chancellor Cummings-Edwards has indicated that Justice Rishi Persaud is still being considered for the position, after being nominated by the JSC for the post.
She explained that since Persaud's father was a member of the Commission at the time of his interview he had to recuse himself.
Additional members of the Commission will be sworn in later today and Justice Persaud's interview is likely to be held shortly.
President Granger congratulated the two highly qualified female jurists on their elevation to the Court of Appeal.
He used the occasion to recommit to ensuring an efficient judiciary, free from executive interference.
"The executive branch of government has no interest in interfering in the adjudicatory role of the judiciary… we will ensure the judiciary is protected from private and partisan interest," he said.
The Head of State laboured the point that that the constitution was the supreme law of the land and no one should see themselves as being above the law.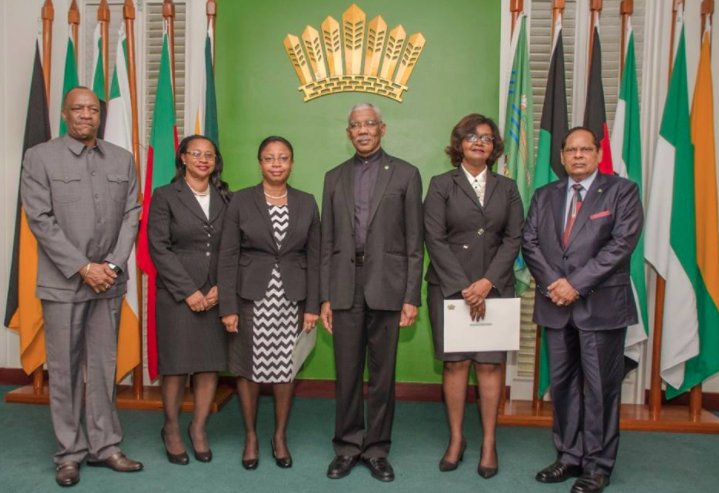 "The Executive branch of government only wants an unbiased and unblemished judiciary," he added as he called on all citizens to respect the authority and dignity of the judiciary.
President Granger also urged the Judges to be exemplars of the high standards of their office.
He has promised to support the efforts of the JSC to fill other vacancies in the High Court.
The President said he is awaiting advice which was sought from Chancellor Yonnette Cummings Edwards to move ahead with those appointments.
A list of four names has already been submitted to the President for him to make those appointments.