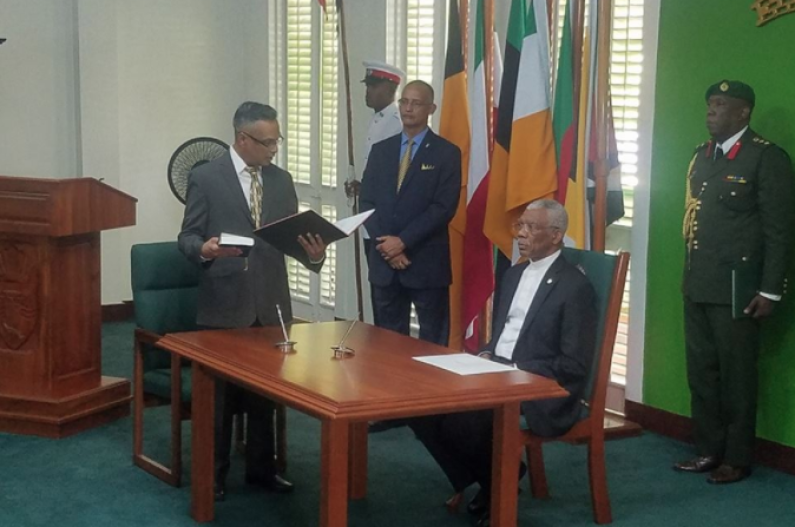 Just before noon on Wednesday, President David Granger administered the oath of office for Appeals Court Judge to Attorney Arif Bulkan.
The appointment is a temporary one and will last for six months,ensuring that there is a full complement of Judges in the Court of Appeal to aid in the promotion of judicial efficiency.
Justice Christopher Arif Bulkan, described by the President as an eminent Guyanese, took his Oath of Office at State House in the presence of other senior luminaries including acting Chancellor Yonette Cummings- Edwards, acting Chief Justice Roxanne George-Wiltshire and Chief Magistrate Ann Mclennan.
His appointment takes immediate effect and Bulkan will begin his work at the Court of Appeal from today, January 17th, 2018.
According to President David Granger, the temporary appointment is provided for in the Constitution and is an affirmation of the government's commitment to ensuring that the judicial system remains independent.
News Source understands the 6-month appointment was requested by Bulkan when the offer was made to him by the Judicial Service Commission.
The recommendation was sent to the President by the JSC which led to the Head of State acting on the recommendation.
Bulkan said he hopes his appointment will be meaningful in terms of clearing up the backlog that currently exists.
He confirmed that he was interviewed by the five-member JSC which made the recommendation to the President.
He said he hopes his short appointment will mean fewer adjournments and Lawyers having to present their cases in a faster manner.
At this point in time, he has no plan to extend the appointment.
Bulkan who is a full-time lecturer at the University of the West Indies, also worked out of the DPP Chambers and served as a Magistrate previously.