Senior Counsel Rafiq Khan, was today sworn in as Acting Justice of Appeal.
The six-month appointment takes effect from today. Speaking at the swearing-in ceremony at State House, President Granger said the appointment will serve to preserve and protect the rights of citizens to equal protection and benefit of the law.
"The Government of the Cooperative Republic of Guyana is committed to ensuring equal protection and benefit of the law through its support for access by all to justice and the efficient and timely dispensation of justice by the courts. Equality before the law can exist only where there is access to the law. The absence of such access deprives citizens of equal protection and benefit of the law," the President said.
The President also pointed out that an efficient and independent judiciary must include a full complement of legal officers, magistrates and judges, which enables judicial efficiency, to ensure that citizens' cases are heard expeditiously. This, he said, will enhance public confidence in the rule of law.
In a statement, the President's office said that as a demonstration of its commitment to judicial independence and efficiency, the current Government passed the Fiscal Management and Accountability (Amendment) Act of 2015, "to pave the way for the financial autonomy of the judiciary. Additionally, an acting Chancellor and Chief Justice were appointed after consultation with the Leader of the Opposition and several judges were appointed to both the High Court and the Court of Appeal."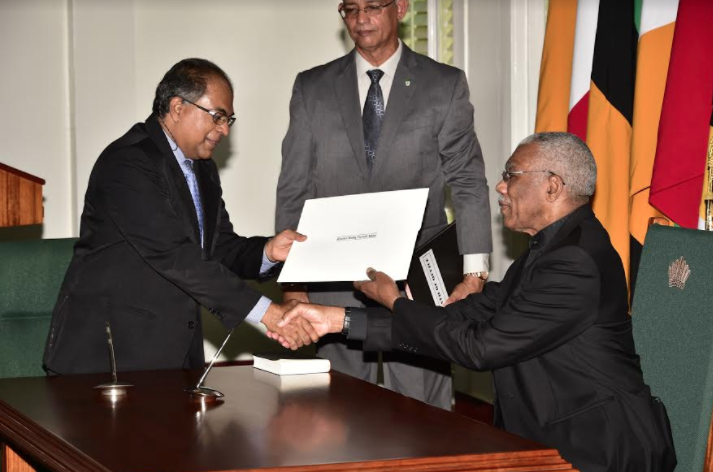 Meanwhile, Justice Khan, who was elevated to the status of Senior Counsel in 2017, said that he was interviewed for the position by the Judicial Service Commission in July last year, and he believes his experience will guide him.
"What I think I can bring to the table is vast experience in civil procedures. When you come out of private practice and you go unto the Bench, you bring a different perspective," he said.
Justice Khan has been practicing most Civil Law for the past 30 years. He also taught at the University of Guyana for about three years, served on the Rows Committee for 10 years and the Legal Practitioners Committee for 15 years.
Last month, President Granger appointed Attorney-at-law Dr. Arif Bulkan as an acting Judge of the Court of Appeal.