Guyanese are being reminded that there are still safeguards against injustices caused by maladministration.
The reminder came from the President as Justice Winston Patterson was sworn in as the country's new Ombudsman.
Justice Patterson, a retired Judge, replaces the late Justice Winston Moore.
President David Granger administered the Oath during a simple ceremony at State House and underscored the important service that the Ombudsman provides to the public.
"The services of the Ombudsman are free and timely. The Ombudsman serves as watchdog, guarding against abuse or the violation of citizens' rights by public officials and their departments and authorities. The Ombudsman is the public advocate," he said.
Also attending the simple ceremony were Prime Minister Moses  Nagamootoo, Vice President and Minister of Public Security, Khemraj Ramjattan, Minister of State, Joseph Harmon, Minister of Natural Resources, Raphel Trotman and family members of the Ombudsman.
The appointment followed with the Opposition Leader, Bharrat Jagdeo.
President Granger took the opportunity to express the appreciation of the Government for the services of the late Justice Moore who he said served with respectability and credibility in the office of the Ombudsman.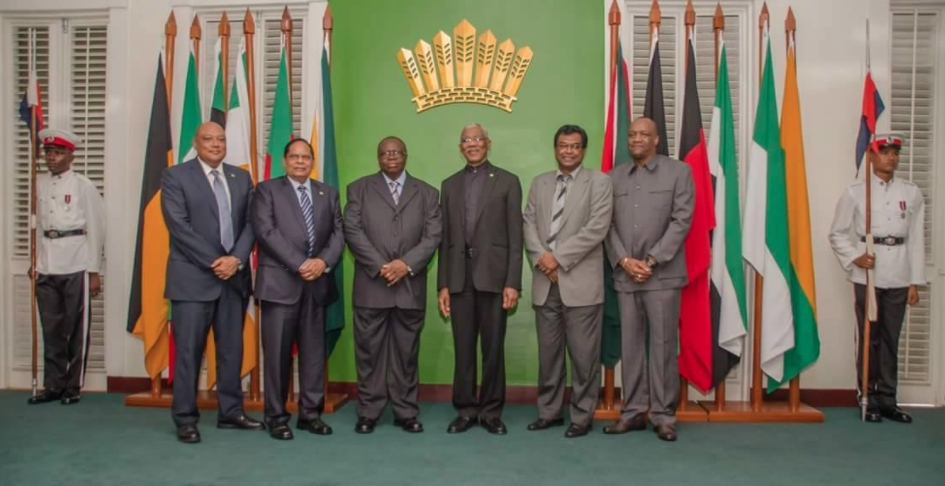 Mr. Granger reminded that Guyana became the first country in the western hemisphere and the second Commonwealth state to enshrine the position of Ombudsman in its Constitution.
The Constitution vests the Ombudsman with the authority to investigate claims of injustice suffered as a result of maladministration in government. The Constitution (at Article 192 (1)) states that the Ombudsman: "may investigate any action taken by any department of Government or  by any action taken by any department of Government or by any other authority to which this article applies, or by the President, Ministers, officers or members of such a department or authority, being action taken in exercise of the administrative functions of that department or authority."