A new report on discrimination against members of the Lesbian Gay Bisexual and Transgender community in Guyana has found that members of the community are trapped in a life cycle of violence and discrimination.
The report, which is titled "Trapped", has found that there continues to be persistent complaints of members of the LGBT community experiencing violence and discrimination throughout their lives.
The 90-page report was drafted by members of the Georgetown Law Human Rights Institute's fact-finding project and was launched by the Society Against Sexual Orientation Discrimination on Thursday.
Staring at home and at school, the report said LGBT persons experience homophobic and transphobic-motivated bullying.
This type of discrimination is also evident in the workplace and healthcare facilities but SASOD's management believes that the findings of this structured research will help to engender much-needed change in this regard.
Some 68 persons were interviewed from within the government, civil society, police force, human rights defenders and activists along with LGBT persons.
Investigators also analyzed the trends and state of Guyanese law and policy affecting LGBT persons and their rights.
According to the Executive Summary, read by SASOD's Human Rights Coordinator Valine Leitch, "The findings illustrate a severe dearth in the protection and fulfillment of the rights of LGBT persons in nearly every aspect of daily life that was examined, despite clear obligations by the State to ensure such rights are respected."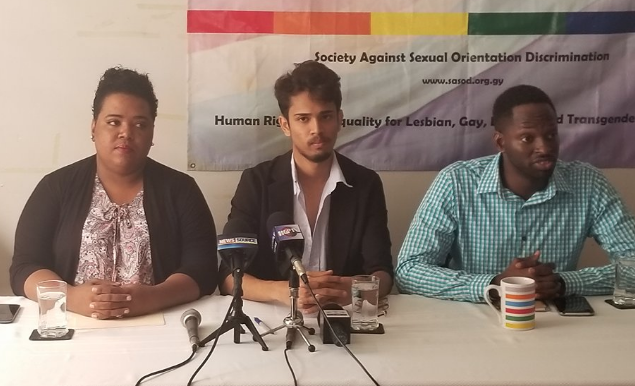 The report said "rife" discrimination against LGBT persons is directly impacting access to education, healthcare and jobs along with protection from the security forces.
LGBT persons also face regular threats, intimidation, harassment and violence in public spaces, perpetuated by both private and state actors.
"Access to justice is often denied … by some law enforcement officers who refuse to take or investigate reports by LGBT individuals," the report noted.
Based on these trends it makes several recommendations to the Guyanese government and other stakeholders.
SASOD's Managing Director Joel Simpson highlighted two of those recommendations, one calling for the expansion of existing legislation to offer more protection against LGBT persons and two, training for the Police.
Simpson said it is important that the Prevention of Discrimination Act of 1997 be amended to include sexual orientation and gender identity even as he denounced instances where persons experience discrimination when they go to report instances of violence and hate crimes.
He said laws criminalizing cross-dressing and same-sex intimacy should not have impeded how LGBT persons are treated by the Police even as he supported investment in this area.
Other recommendations are piloted to change in the private sector and the government to protect the rights of LGBT persons to protection, education, and healthcare.
To implement these recommendations, Simpson said SASOD intends to meet with stakeholders privately and engage them around the specific findings of the report.
He is also hopeful that the statistics and real-life experiences contained in the report will change the perception that LGBT Guyanese do not face discrimination and violence, insisting that while it is not on the rise it still exists.
The full report can be found at https://www.law.georgetown.edu/human-rights-institute/wp-content/uploads/sites/7/2018/05/Georgetown_LGBT_book_DigitalFINAL.pdf