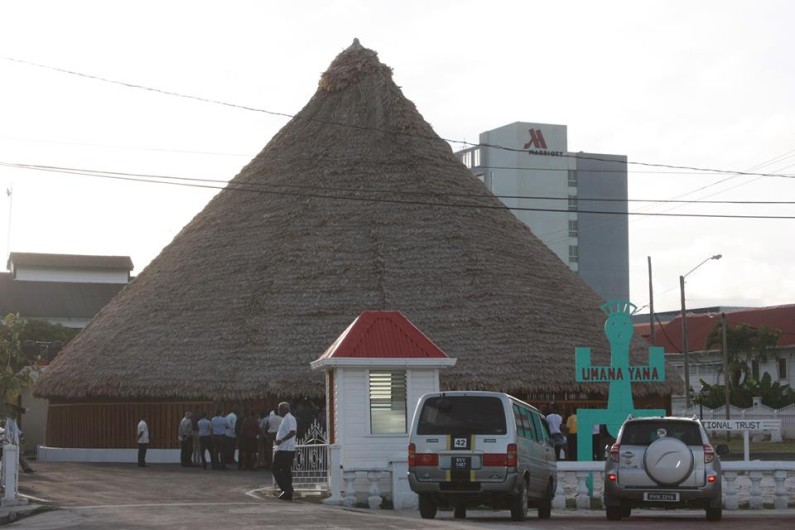 Almost two years after one of Guyana's most famous landmarks and heritage sites was completely gutted by fire, the doors to a new Umana Yana  were opened on Thursday.
Contractors had missed the April month-end deadline for its completion but remained committed to completing the conical-shaped structure and making it available to the Guyanese people. The majority of the project was completed by the Wai Wai Amerindian tribe.
The more than $100 million thatched roof and wooden building was handed over by Public Infrastructure Minister, David Patterson to Minister within the Ministry of Education Nicolette Henry during a simple ceremony on Thursday.
Patterson explained that the Ministry was keen to ensure that there were fire alarms and firefighting materials installed.
Other improvements to the building include the raising of the flooring in the event of floods.
Additionally, Patterson said the Ministry still has to install solar panels to provide electricity to the building.
The total cost for the rebuilding of the benab and refurbishing of the washrooms, water system and kitchen is being calculated at $106 million.
The materials for the building were provided by the Wai Wais and indigenous peoples through the Ministry of Indigenous People's Affairs.
Meanwhile, Minister Henry said Guyanese can expect to see the building being utilized for national and international events.
Over the years, the Umana Yana, which is an Amerindian term meaning "meeting place", has served as a meeting place for local and foreign dignitaries.
It has hosted Caribbean and International Conferences and has welcomed Presidents and Diplomats.
The structure was rebuilt to 55 feet high from thatched allibanna and manicole palm leaves, and wallaba posts latched together with mukru, turu and nibbi vines. No nails were used during its construction. The building was first constructed in 1972 but was destroyed by an electrical fire on the afternoon of September 19, 2014.