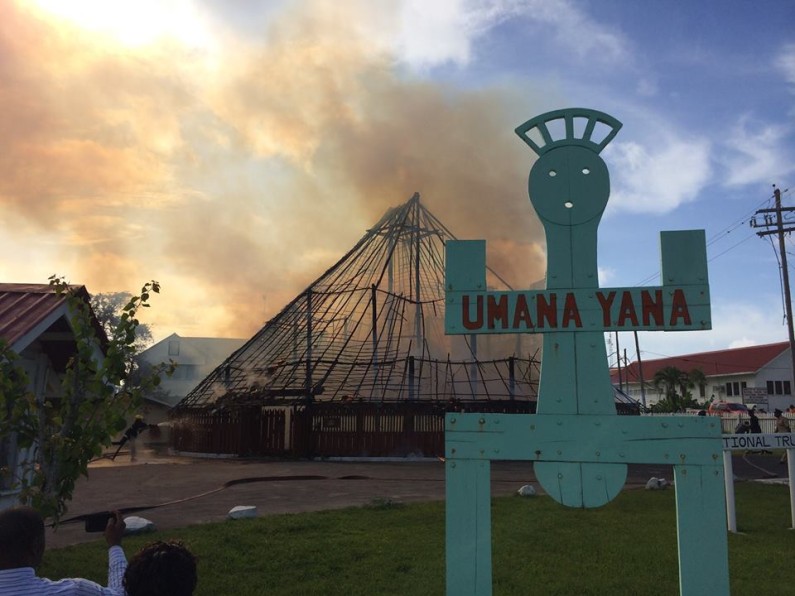 One of Guyana's most famous landmarks and heritage sites, the Umana Yana was completely gutted by fire on Tuesday afternoon and fire investigators believe the cause may be electrical in origin.
The Guyana Fire Service received emergency calls just around 3:29pm after persons noticed the fire ripping across the roof of the structure.
The Fire Service responded immediately with four fire tenders but although they were quick in their response, the fire quickly ripped through the thatched roof and wooden building, leaving nothing more than its shell and falling debris.
No one was in the building at the time of the blaze. A security guard who was on duty was rushed to the hospital with minor injuries. Minister of Culture Frank Anthony and his Permanent Secretary rushed down to the scene and the Minister said it was more than a tragic loss especially coming around this time when Amerindians are celebrating Heritage Month. The Ministry of Culture was in charge of the building.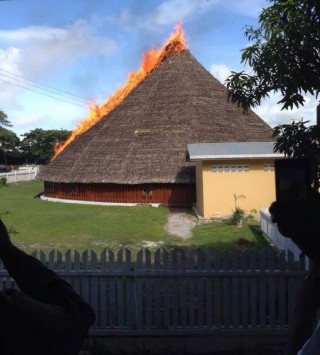 The Umana Yana was built in 1972 under the Forbes Burnham government as a meeting place for the people. It was built by members of the Wai Wai Amerindian tribe and over the years there have been repairs done to its structure the thatched roof has been replaced on a number of occasions by members of the same Wai Wai tribe.
The Culture Minister said the structure will be rebuilt and he pointed out that money will  be sought in the 2015 National Budget for its reconstruction.
The Guyana Fire Service Officer in Charge of Operations Compton Sparman, said there was nothing in the building other than the electrical connections that could have started the fire. He said no one was in the building at the time and all preliminary investigations so far are pointing to the cause being electrical in origin.
The Fire Service was thanked for its quick response.
Over the years, the Umana Yana which is an Amerindian term meaning "meeting place", has served as a meeting place for local and foreign dignitaries. It has hosted Caribbean and International Conferences and has welcomed Presidents and Diplomats.
The structure was 55 feet (16.78 meters) high and was made from thatched allibanna and manicole palm leaves, and wallaba posts latched together with mukru, turu and nibbi vines. No nails were used during its construction.
9th September, 2014