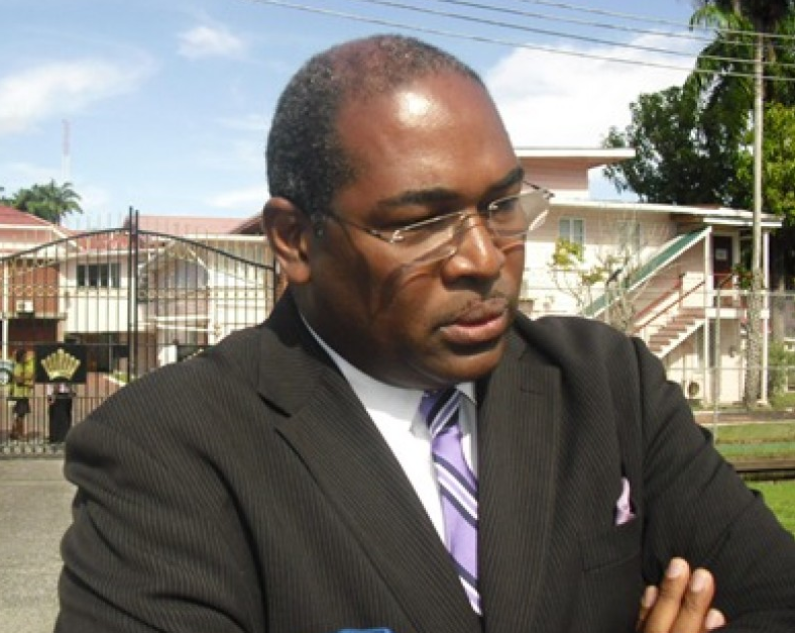 Just one day after the Alliance For Change's leadership met and later issued a strong statement calling for the stripping of some of the powers of the Minister of State Joe Harmon, the Chairman of the Alliance For Change, Nigel Hughes has tendered his resignation.
While the AFC has not confirmed the resignation, in a statement this evening, the party said that at a statutory meeting this evening of the party's management committee, Mr. Hughes made an announcement about his post of Chairman of the party.
The Leader of the AFC, Khemraj Ramjattan who also attended today's management meeting is expected to meet tomorrow with Mr. Hughes.
Ramjattan did not attend Sunday's leadership retreat after which the statement about Joe Harmon was issued.  AFC Former Leader, Raphael Trotman was also not present at the Sunday meeting.
The Sunday meeting was chaired by Hughes with the Prime Minister, Moses Nagamootoo to his side.  Nagamootoo is the Vice Chairman of the AFC.
The Alliance For Change in a statement this evening said it "confirms unequivocally that the statement issued on April 10th following its leadership retreat was one which was unanimously approved by the attendees of the leadership retreat".
The party said it will make no further statement on the matter at this time.
The AFC is the smaller of the two parties that make up the coalition government. News Source understands that a number of senior members of the party were surprised with the statement that was issued late Sunday night.
The statement called for the stripping of some of the powers of the Minister of State Joe Harmon over the now revoked appointment of businessman Brian Tiwarie as his Advisor.
President Granger has since stated that he stands by the responsibilities that were given to the Minister of State and he also expressed concern that no one has ever raised issues about the responsibilities before, even after all of the responsibilities for various government ministers were announced to them during a government retreat back in January.
This is not the first time that Hughes has tendered his resignation as AFC Chairman.  He offered a similar resignation back in 2013 after it was revealed that he was the Company Secretary of the Amaila Hydro Incorporated company. That revelation came at the same time that the APNU and AFC which were in opposition at the time, were fighting against the then government's support for the Hydro power project.