A Guyanese man and his young baby were shot dead in their Brooklyn Apartment by his girlfriend, a New York police officer who eventually killed herself just after committing the double murder in the East Flatbush area. The man has been identified as Dason Peters. He was scheduled to fly to Guyana tonight to be with a local girlfriend.
The New York Daily News reported "An off-duty cop killed herself after blowing away her boyfriend and fatally shooting their 1-year-old baby in the chest in a bloody rampage Monday morning, cops said.
Rosette Samuel, 43, first shot the baby's father, Dason Peters, inside her East Flatbush apartment in Brooklyn, sources said. Peters was found face down, covered in blood, in the hallway leading to the kitchen.
Samuel, a veteran NYPD officer, then brought the toddler into the bedroom to kill him and then herself, according to police sources.
The baby boy's life was snuffed out by a single bullet to the chest, police sources said. His tiny body was discovered next to his mother about 8:30 a.m.
The mother's gun was found nearby, police sources said.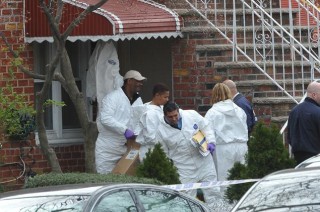 The sole survivor of the family horror was Samuel's son from a prior relationship — 19-year-old Dondre Samuel.
The shaken teen told investigators he'd heard a "pop pop" as his mom got ready for work, police sources said.
She'd been arguing all night with Peters, he told police, and walking around with her gun Monday morning.
Witnesses said the teen escaped the bloodbath by climbing through a second-story window as shots rang through the early-morning quiet of the residential neighborhood.
"He was jumping from the second floor to the first. He was frantic," said Anthony Beckford, 18.
"His knees, elbows were scrapped, bloodily. He couldn't really talk. He was running, for his life. He just said, 'Look, look,' and pointed at a body. We saw a body on the first floor, facing up and blood all over," said Beckford.
Police sources said Samuel called the 108th Precinct where she'd been working for the last two months to say she was going to be late
"She shot those two then took her own life," a police source said.
Police didn't find a suicide note at the scene but are checking Samuel's e-mails to see if they shed light on the violence, a source said.
A relative who lives a few streets away from Samuel's apartment raced over on a bike when he heard something had happened to his cousin.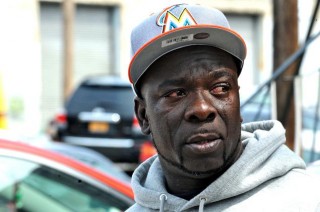 Tears streamed down Jeff Joseph's face as he took in the news that Samuel had allegedly murdered her own child, as well as the baby's father, and then killed herself.
"She was a very good girl," said Joseph. "She always did good with her life."
There were no signs of a struggle inside the apartment nor were there any breakfast preparations under way, indicating the shootings likely occurred first thing in the morning, a police source said.
Police said Samuel had worked for the NYPD for 13 years. She got moved to the 108th Precinct that covers Long Island City and Sunnyside in Queens two months ago. Before that, she was assigned to Manhattan Traffic Division, sources said. Neighbors on the tree-lined street were shocked by the news of the double-murder-suicide on their otherwise quiet block.
"I don't know how anyone can do that," said shaken-up neighbor Ricky Lascare. "A kid died too. It's sad. It makes me sad."
Another resident said he always felt safe knowing there was a cop on the block." NEW YORK DAILY NEWS PHOTOS AND ARTICLE