At the opening of the Private Sector Commission's seminar on opportunities in the oil and gas sector  in Guyana, discussions on possible renegotiations of the contract Guyana shares with ExxonMobil dominated the official opening ceremony.
ExxonMobil's Senior Director Kimberly Brasington was asked specifically whether the company was open to a renegotiation of the contract.
While not giving any clear-cut answer, she indicated that ExxonMobil would like the sanctity of the existing contract to be respected.
Exxon has already engaged the government in a process, which saw the review of the 1999 agreement and the birth of a modified and updated version of that agreement that resulted in benefits to both Guyana and ExxonMobil.
But critics have said that the most recent agreement amounts to one of the worse contracts ever signed by Exxon with calls for the government to renegotiate the agreement.
The Government has already said it does not intend to do so and like Exxon, it believes the latest agreement is fair to both parties.
Ms. Brasington said she believes the stability of the contract is very important, especially in a new industry.
"So I wouldn't answer to say yes or no… but we believe firmly in the principle that there is sanctity in any contract. there are a lot of eyes on Guyana to see how this will play out and whether it is a good environment to do business," she added.
The Director said the company is committed to remaining a good partner and is not entirely opposed to calls for renegotiations.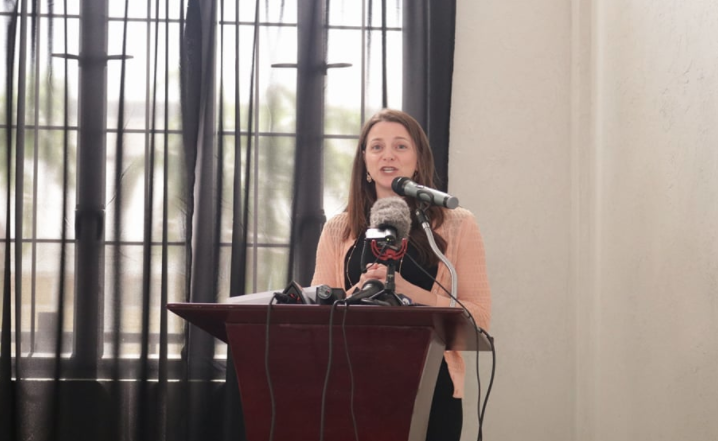 "But we have a contract and we intend to stand up to it and hopes the government does the same."
She said everyone is everyone is welcomed to their independent assessment and opinion of the contract, but pointed out that while the updated agreement gives Exxon more time for exploration it also affords the government several benefits that weren't included in the 1999 agreement.
"In return for that (renegotiation), the government secured more out of the deal… we could have stayed with 1999 agreement but I feel like we are in a good place right now."
These new benefits in the 2016 PSA include a signing bonus, 2% royalty, 50% of profits, an increased rental fee for blocks and increased training fee among others.
She said Guyana will also get the majority of revenue based on the sale of petroleum.
Ms. Brasington said already 605 Guyanese business are registered with 70 of them taking courses.
Exxon has also hired 79 Guyanese men and one woman to work on its offshore base with an additional 10 currently undergoing training overseas and five working for Exxon in the United States.
These Guyanese will return in time for 2020 production start-up to be actively engaged in the process.