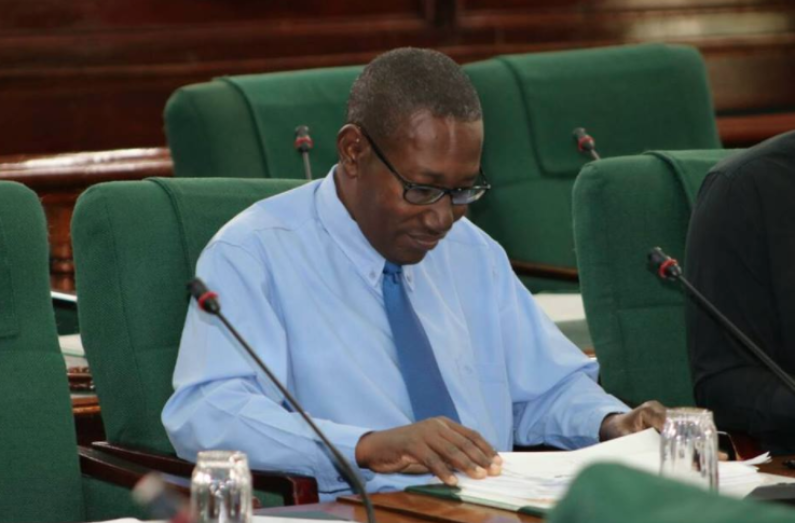 A meeting of the Public Accounts Committee (PAC) got off to a heated start on Monday after the Finance Director of the Georgetown Public Hospital, Ronald Charles, disclosed that he was "not fully" the Finance Director and could not answer questions being put to him.
There was a brief exchange of words between Chief Executive Officer of the Georgetown Public Hospital, Allan Johnson and PAC Member, Juan Edghill, who felt that it was a deliberate attempt to frustrate the work of the PAC.
An unprepared Johnson who showed up to the meeting with one member of his staff, was eventually asked to leave the meeting by Chairman, Irfaan Ali who was also forced to bring calm to a brewing verbal exchange between the CEO and Edghill.
The meeting had just started when the man who Johnson introduced as the Finance Director could not provide answers on how much resources were kept in the GPHC account at end of 2015 and 2016.
The PAC was at the time grilling the CEO on the non-submission of financial statements for the year 2015 and 2016.
The CEO had reported earlier that all the all funds that were not utilised at the end of 2015 and 2016 were returned to the government to go into the Consolidated Fund.
But the Finance Director later said that "as far as he is aware" there was still some outstanding monies.
The PAC later heard, after Charles could not offer further clarity on the issue, that while his title was Finance Director he is not directly tasked with that responsibility and was in fact in charge of procurement.
The CEO then sought to explain that the substantive Finance Director had reported sick two days ago, prompting the Chair to asked the two gentlemen to leave and return when they were prepared to answer the questions or with a team that could do so.
Edghill felt that it is was deliberate attempt to not provide PAC with answers.
"The CEO came here before and now he is coming to PAC with one member of staff who is not capable of answering the questions and is not in possession of information… it could very well be an attempt to hide information and frustrate the PAC," Edghill added.
Ali then accused the CEO of being disrespectful to bring one staff who could not answer questions.
"We will not allow you to waste PAC time and you Mr. CEO seem to be all cool about this," he added.
While the CEO was making his way out of the meeting, Edghill said "you should hang your head in shame. Any CEO worth his salt would have come here with a proper team… and you are being rude."
The CEO responded saying "I am a big man" to which Edgjhill responded, "well behave like a big man.
Edghill repeatedly accused the GPHC CEO of "following instructions."