A 22-year-old young man who was the pillion rider on a motorcycle lost his life on Friday morning when the motorcycle slammed into a car on Mandela Avenue. The rider of the motorcycle sustained a number of injuries while the driver of the car escaped unhurt.
The dead youth has been identified as Tavell Gilbert of South Ruimveldt.
His mother broke down into tears when she got news of her son's death. She had to be consoled by other relatives at the Georgetown Hospital. The young man was not wearing a helmet at the time of the accident and the rider of the motor cycle was also not wearing a helmet.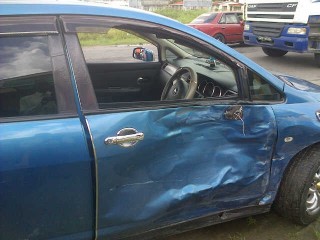 According to reports, the accident took place just as the driver of the car was making a right turn into a street off of Mandela Avenue and the speeding motorcycle was about to over take the car.
The motorcycle slammed into the car and the impact sent the two men "pitching through the air and the bike ended up in a concrete drain" according to an eyewitness.
The 22-year-old young man who died may have sustained serious injuries to his head. He was rushed to the Georgetown hospital where he was pronounced dead.
The driver of the motor car was taken into police custody and was assisting with the investigations. The motor cycle rider who escaped death, was also being questioned by the police.
Filed: 7th June, 2013