The visually impaired man who was charged a few weeks ago in murder conspiracy case was placed on $150,000 bail when he made his second court appearance on Friday morning and the entire case against him could be dropped when he appears in court the next time.
Social and Political activist Mark Benschop has indicated to the court that he does not wish to offer evidence against the 55-year-old East Bank Essequibo man in the matter. The man's name is given as only "Lochan"
It was Benschop who had called in the police when the man appeared at his East Street, Georgetown Office to hire "hit-men" to execute two persons he claimed were giving him trouble with regard to some business dealings.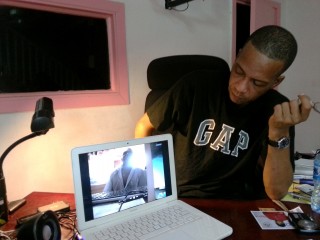 Benschop had recorded the entire episode on camera and called in the police who launched a "sting operation". During that operation, two policemen pretended to be "hit-men" and the blind man offered them the job, giving details about the persons he wanted dead and making known to them the amount of money he would have paid for the executions.
The man was taken into custody and charged with inciting to commit the felony of murder.
Mark Benschop said he decided to pull away from the case and no longer offer evidence because he took into consideration the man's health and an apology he made to his own family. Benschop said he was also not happy with the length of time it was taking the police to complete their investigations in the matter even after charging the man.
The Magistrate has ordered that the file be sent to the Director of Public Prosecutions for further advice in wake of the latest development. It remains unclear whether the entire case against the man will be dismissed. Although Benschop decided to no longer offer evidence, the police could still rely on its two undercover officer who were privy to the man's plan and offering.