Just one point separated the Top 2 students in this year's National Grade 6 Assessment Examinations. Education Minister Priya Manickchand on Friday announced that 11-year-old student of the ISA Islamic Academy, Salima Majeed is the Top Performer for the 2013 examinations with 548 marks out of 560.
The Mae's Under 12 School and student Christian Pile grabbed the #2 position with 547 marks. the Mae's School also grabbed the other top 4 positions through students Navindra Persaud, Ashtmi Deo, Brandon Chanderban and Zene Ramotar.
The Education Minister said 16, 811 students from across the country wrote the examinations and she was happy with the results although she thought there was still room for improvement.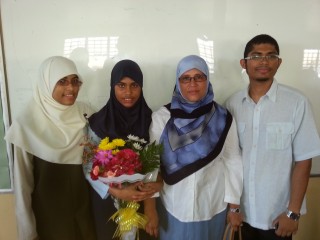 "Well I would like to see 16,000 persons getting 100% but we are dealing with reality. I am happy that I am seeing a good spread across the country where I am seeing places like Cropper Primary from Region 6 attaining a space in the Top 10", the minister said.
Just after announcing the results to the media, Minister Manickchand hurried over to the ISA Islamic Academy on East Street in Georgetown to personally take the good news.
The Top student Salima Majeed, appeared shocked and in disbelief as reporters and cameramen snapped pictures of her.
The shy 11-year-old said she was just happy with the results. Her mother who was at the school told News Source that she expected that her daughter was going to do well "but never imagined in my dreams that she would have been the top student, at the very top, I am extremely happy and all praises are due to Allah".
Teachers and students of the school exchanged greetings as they celebrated the top position.
The Ministry of Education has also found that male students are performing better this year. The results have also seen an improvement in the Mathematics subject area.
The Minister announced that the Top 1% which would be 116 students will receive free laptops from the President who Manickchand explained is very pleased with the results.