Guyana's longest serving Prime Minister, Sam Hinds, has extended best wishes to the new Prime Ministerial Candidate of the People's Progressive Party Civic, Ambassador Elizabeth Harper.
This will be the first time that the PPP Civic will be heading into national elections in 22 years without Sam Hinds as the Prime Ministerial Candidate.
In offering congratulations and best wishes, Prime Minister Hinds said Harper "is a Guyanese of exceptional national commitment who, I am confident, would work with everyone in pursuit of the national 'good'.  Indeed, I commend Ms. Elisabeth Harper to all of our PPP/C supporters and to all Guyanese."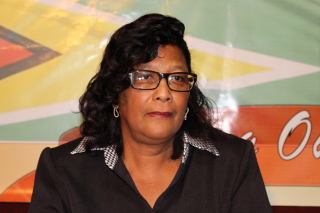 He called on all Guyanese to join him  in winning every vote that they can, for Mr. Donald Ramotar as President, and Ms. Elisabeth Harper as Prime Minister!
Prime Minister Sam Hinds was hoping that he would have been selected again as the PPP Civic's Prime Ministerial Candidate for a record 7th time. However, the executive of the People's Progressive Party wanted someone new who they believe would be able to cause a stir.
In his statement to announce Harper as the PM Candidate pick, PPP General Secretary Clement Rohee said there was only one name that was put to the executive of the party to be considered and that name was in the person of Elizabeth Harper.
Prime Minister Hinds was not present at the announcement but a number of senior members of PPP civic were spotted at the party's headquarters while the announcement was being made.
Filed: 21st February, 2015