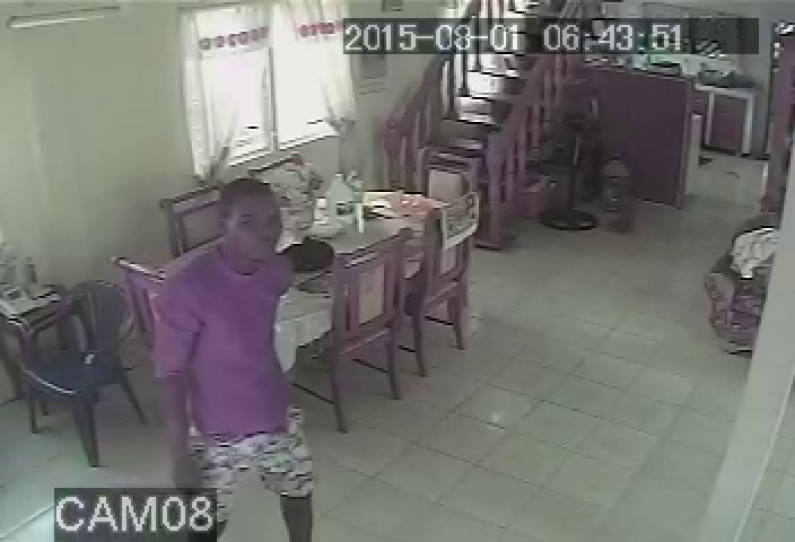 The Guyana Police Force this morning arrested a young man who it is believed in the person caught on camera beating a 77-year-old Montrose woman to death during a Saturday morning robbery.
Crime Chief Wendell Blanhum confirmed the arrest to News Source and said investigators are currently questioning the man as they seek confirmation that he is indeed the man caught on the surveillance cameras of the East Coast Demerara house.
The Crime Chief explained that the investigators want to be 100% sure that it is the right man that they have in custody. The suspect was arrested after the police received a number of tips and leads following last evening's release of an image of the suspect while he was in the elderly woman's house.
The Crime Chief also confirmed that another man who was earlier arrested, is still in custody as investigators piece together evidence in the case.
The man is believed to be a businessman who had a land dispute with the woman. Investigators are of the view that he may have hired the killer.
In the video recording, the killer is seen going through several documents in the house and searching around after he repeatedly beat the woman with an iron object.
He spent close to an hour in the house going through documents as the 77-year-old Carmen Ganesh laid motionless on the floor in a pool of blood.
Surveillance cameras also picked up the suspect leaving the house and jumping over the fence to board a mini-bus on the main road.
The elderly woman lived alone in the two-storey house. She was discovered dead on Saturday by relatives when they decided to check on her after not hearing from her for the morning. Neighbours had called the relatives when they did not notice the woman in her yard doing her usual morning chores.