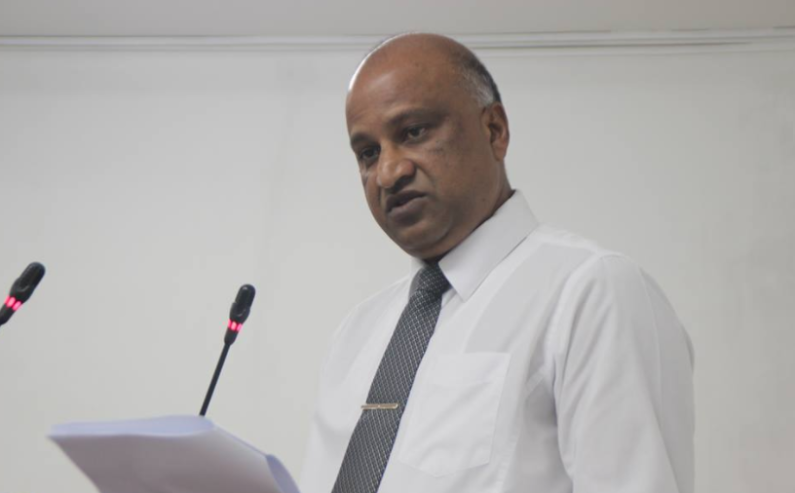 Testifying before a packed room, Police Commissioner Seelall Persaud on Monday denied allegations that he gave instructions to have Nizam Khan, who faces allegations of plotting to kill President David Granger, released from police custody less than 12 hours after being arrested by police.
Several senior police ranks who testified before Persaud, had claimed that he was the one who gave the instructions to release Khan and his brother, Imran Khan from custody.
But the Police Commissioner would not accept responsibility for that decision.
He said he made a suggestion to the investigating rank but would not consider it to be the same as giving an instruction.
"I was making a suggestion, I was giving an opinion […] my intention wasn't to ensure he [Nizam Khan] go on bail. I had a concern with how the policy of the Force was being implemented," he told the ongoing Commission of Inquiry.
Persaud admitted that Imran Khan is a personal friend and admitted that he instructed that Khan, who was detained for disorderly behaviour, be sent on his own recognizance.
He said his opinion was that Nazim Khan should not have been detained as there were "serious credibility issues" with the report, as indicated by the investigating rank.
"My judgment was sound then and is still sound now," he added.
The Police Commissioner said he was first made aware of the allegations of the plot to assassinate the President on March 29th while he was on annual vacation leave, when he received a call from Imran Khan and later made inquiries from Crime Chief Wendell Blanhum.
Persaud said he became involved in the matter when he returned a missed call to Imran Khan later that night and was told that he was on bail for disorderly behavior and hadn't money to pay.
Persaud's evidence was that two individual calls to Blanhum and Head of the Major Crimes Unit, Mitchell Caesar went unanswered, which led him to then call the investigating rank, Inspector Narine.
It was during that call that he admitted, he instructed that Imran Khan be sent on his own recognizance and  a suggestion offered that Nazim Khan be placed on bail.
Persaud said he made that suggestion after Inspector Narine told him that his opinion was that the complainant Andriff Gillard, was lying.
"I told him it is wrong to put someone in custody who hasn't committed any breach of the law, but when a senior rank makes a suggestion, it is the culture of the Force to carry it out. If he takes that as instructions I wouldn't be surprised but the expectation was that he would factor that into his own judgement."
Speaking directly to his friendship with Imran Khan, Persaud said his friendship does not extend into any business relations. "It's not unlike any of the other friendships I have.  I've  known him since 2004 when I was appointed the Divisional Detective Officer in A Division."
Persaud later admitted that as Police Commissioner he approved a gun license upgrade for Khan from a 9mm handgun to .45 pistol. He also said that he approved a gun license for Imran Khan's brother, Nazim Khan.
When it was time for Persaud to be crossed examined, Senior Counsel Ian Chang declined to ask any questions. Chang was hired by Persaud to represent the interest of the Guyana Police Force.
He was also crossed examined by Attorney Selwyn Pieters, who's representing the interest of Journalist, Travis Chase.
During that cross examination, he denied again that he gave the instructions to grant Nazim Khan bail but supported the judgment to do so.
Narine had told the Commission previously that had it not been for Persaud's intervention, he would not have sent the Khan brothers away but Persaud said had that course of action been taken he would have been breaching a policy of the Force and he would have been disciplined.
"I would have put him on bail," he admitted while referencing Standing Order #74 of the Guyana Police Force.
Persaud was personally represented by Attorney, Glen Hanoman.
He said he still holds the opinion that Gillard made a false allegation against Nizam Khan and was basically lying. The Commissioner said notwithstanding that, he relies on the advice of the Police Legal Adviser.
Persaud summed up his testimony by agreeing that the matter was treasonous but said it was his opinion that a proper investigation was conducted by the force which goes against the testimony given by Assistant Commissioner, David Ramnarine.
The Assistant Commissioner had supported the contention that the investigation was poorly conducted.