Early morning showers could not deter members of the Guyana Police Force (GPF) who gathered on today at the Monument of Fallen Heroes to honour 62 police officers who were killed on the firing line while carrying out their duties.
The annual wreath laying ceremony was done by the widows, children and other family members of the fallen police officers along with the Minister of Public Security and senior police officials.
While no policeman or woman was killed in the firing line since last year's memorial event, fallen ranks like Romain Cleto who was shot and killed in 2013 by criminals at the Avenue of the Republic while carrying out patrol duties and the two ranks who were killed by the now dead berserk businessman along Middle Street, Georgetown, also in 2013, were honoured.
Those gathered also observed two minutes of silence for Police Constable Edison Williams who was crushed by a truck on July 6 while on duty.  
In his address to pay homage, Police Commissioner Seelall Persaud underscored the deadly risk that current ranks continue to take on a daily basis and begged critics for leniency.
The Police Commissioner reasoned that when one considers the risk policemen and women take to protect citizens, every effort of support must be put forward by the citizenry.
Persaud also saluted officers who continue to give service to the force in spite of this deadly risk.
He reminded of the crime spree which prevailed following the 2002 jail break and the high number of ranks who were killed.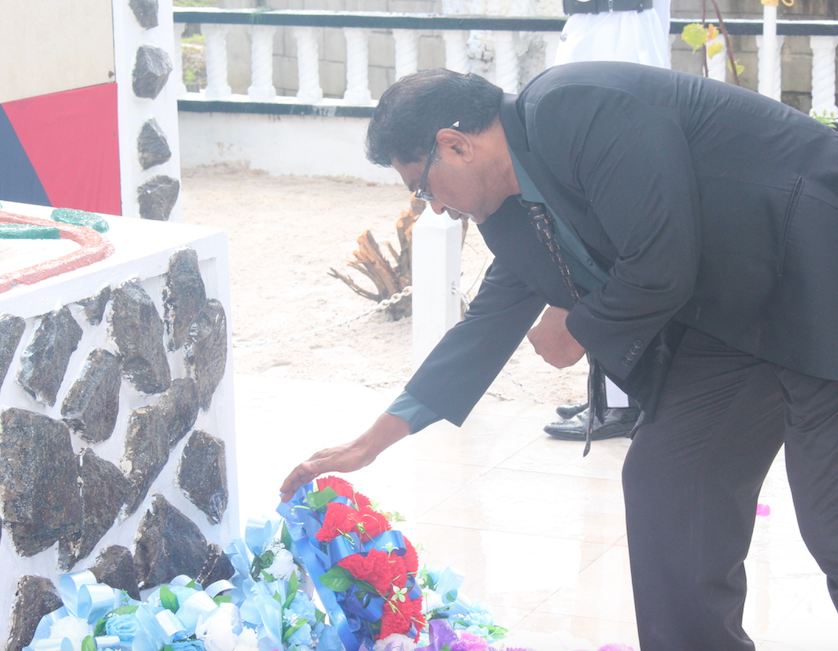 Persaud along with Public Security Minister Khemraj Ramjattan committed to continued support to negate the suffering of the widows and children of the fallen officers.
Ramjattan said while the possibility remains that this number could increase every effort must be made to keep it as low as possible.
He called on ranks to carry out their functions in keeping with international standards for policing in-spite of these challenges.
Ramjattan said the balance must be maintained between apprehension of suspects and the protection of their rights.
The first Policeman killed in the line of duty was Corporal James Ramsey. In 1913, he was killed at Plantation Rose Hall in Canje, Berbice by armed strikers. (Kurt Campbell)