Almost a week after a USAID assessment recommended significant reforms for the Guyana Police Police Force, Acting Police Commissioner, David Ramnarine, has challenged aspects of the assessment, which he believes do not take into account the changes that have taken place within the force in recent months.
It was made clear by USAID that the assessment was conducted in 2015.
But Ramnarine pushed back against claims in the assessment that there is need for the Police Force to strengthen its investigations and prosecutions and that an estimated 90 % of prosecutions are unsuccessful. He also took issue with the assessment stating that it has learnt that the level of public trust in the police stands at 24.3 %.
Mr. Ramnarine said while this may have been the case, it is not in the recent past and the Force is changing in a positive direction.
"We have our unique challenges in the process of maintaining law and order  and we will not own up to criticism in negative way but will use in positive way," he added.
Ramnarine reasoned that a large percentage of the force at the lower level represents young persons who lack experience, patience and tolerance but assured that senior ranks were working to change this.
The USAID report said one senior security functionary attributed the low level of public trust to the Police Force's culture of covering up issues and a reluctance to discipline higher ranks when wrongdoing is uncovered.
"Gone are the days when we will tolerate a deviant rank whether criminally or departmentally and try to cover up… we will not hesitate to make the decision to let ranks go. No rank will be treated like a God unto his/herself or allowed to besmirch the force," he added indirectly.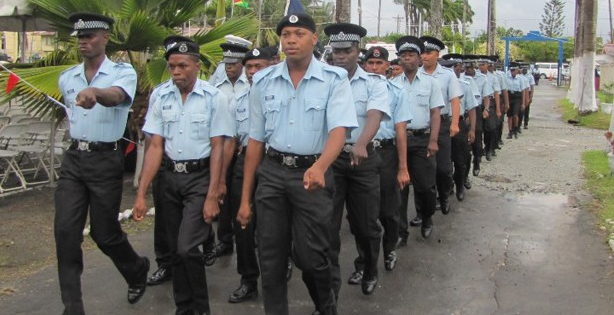 Ramnarine said he was not only responding to the report but also to several calls and complaints he has received over the last week.
The acting Police Commissioner said for 2015, 12 ranks were dismissed for corruption, firearm related offences and narcotics related offences while 15 have so far been dismissed for 2016 for similar offences including rape.
Twenty one ranks were interdicted in 2015 and already for 2016, 24 ranks who are before the courts have been interdicted for offences ranging from attempted murder to assault.
Ramnarine boasted that corruption in the licensing process has been reduced to a minimum and said the work of the Criminal Investigation Department has led to an increase in cases being solved.
"Its not a easy thing to restrain your fellow humans… so there will be problems in that process… there are more reasons now why citizen must have greater respect and trust for the police force," he added.
The Acting Commissioner said he will not bury his head in the sand but will take the flack where it is warranted.
"I can't say and will not say these things are not happening but it is not as pervasive as it is publicized to be," he added.