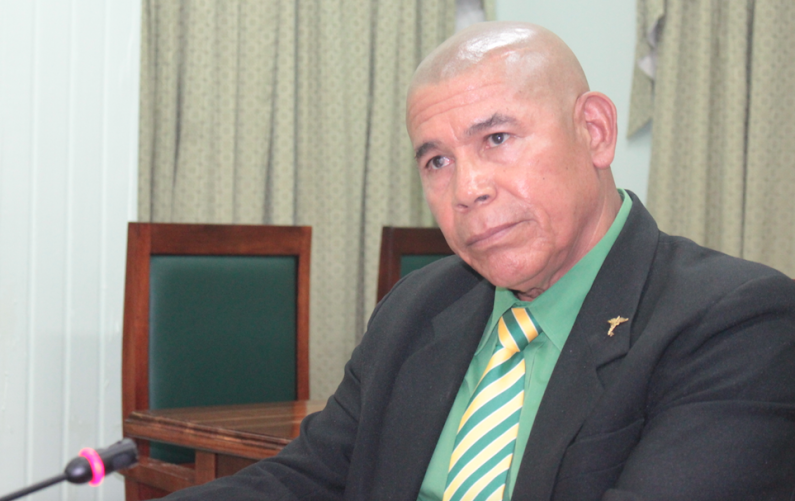 A flustered Health Minister, Dr. George Norton, came before the national media on Friday midday to apologise to the nation for the incorrect statements that he provided to the National Assembly on the rental of a medical storage bond.
With his voice cracking, Norton said the entire issue has already had an impact on his life and even his career and as he seeks to move forward now, he hopes that he will be judged by his years of service.
He told the media that he would be handing in a written apology over his statements in the National Assembly to the Speaker before the end of the day.
Before his meeting with the media, he met with Speaker Dr. Barton Scotland.
Questioned about why he has not tendered a resignation over the issue, Norton said he will ensure every effort is made to ensure that a similar situation never reoccurs under his watch. He said he remains committed to his job and serving the people of Guyana. The Health Minister promised to be a whole lot more diligent with his work and added that he will be doing so even if it is considered to be "micro management".
He heaped praise on his professional staff at the Ministry of Health although he admitted that the inaccurate information provided by him to the Assembly would have been supplied by the same staff. Norton said while he respects all of his staff members, he has learnt to "trust no one".
That statement came in response to a question about whether he trusts his staff although many of them would have worked for years under the previous government.
The Health Minister the government has taken a decision to review the bond contract and that is being done. He was flanked by Director of Public Information, Imran Khan, who advised that although there are calls for the entire contract to be scrapped, the government may find itself facing some legal implications if it should go down that road.
Controversy erupted three weeks ago in the National Assembly when the Opposition grilled Norton on the government's move to rent a building for a storage bond facility at the price of $12.5 million per month.
 That move squeezed the New Guyana Pharmaceutical company out of a possible storage contract. The New GPC which had never charged for storage under the previous government, had already indicated that it would now be charging for the storage of medical supplies that it would be importing for the government. Norton said it is that move by the New GPC and its rental price that forced the Ministry of Health to soul source the new facility.