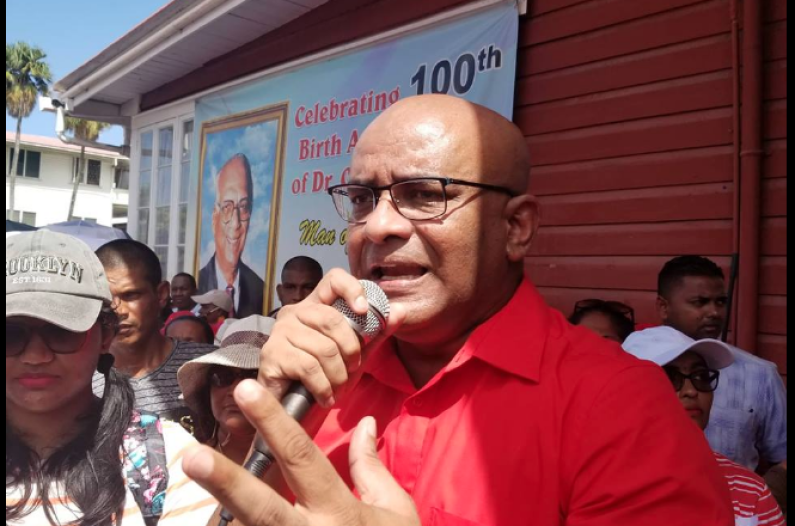 With chants of "the clock is ticking", scores of supporters of the opposition People's Progressive Party protested on High Street today, pressing for elections within the next month.
The protesters gathered at The Red House, armed themselves with placards then made their way as close as they could get to the head quarters of the Guyana Elections Commission.
A police cordon had already been set up and that prevented the protest from getting close to the Elections Commission.
Opposition Leader and PPP General Secretary Bharrat Jagdeo, led the protest and said it was just the beginning of his party's increasing the pressure on the Elections Commission and the Government to ensure elections are held in the month of March.
GECOM's reported timeline sees elections taking place not before the month of July. The Opposition Leader said he is not pleased with that.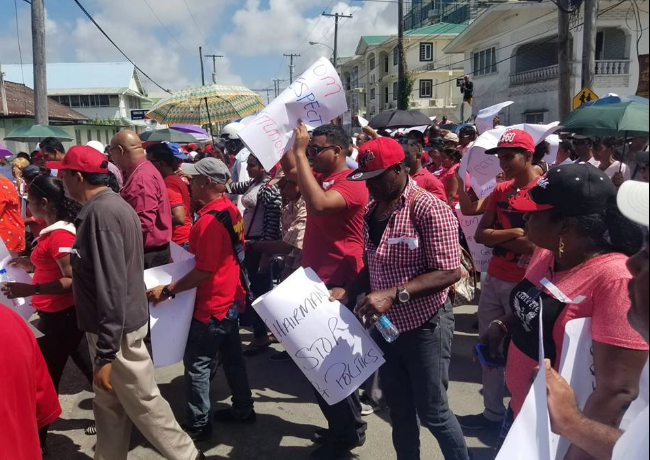 He explained that his party wants GECOM to understand that the proposed timelines are not tenable.
"They have, as a Constitutional body, to respect our Constitution and now that the legislature has spoken and the Judiciary has spoken, they need to follow the timelines imposed by our constitution", Mr. Jagdeo said.
According to the former President, the Elections Commission needs to be working in an accelerated manner to meet the three month deadline for the hosting of elections after a successful no confidence vote.
The Constitution calls for elections to be held within three months or at a time agreed to by two-thirds of the National Assembly.
Some of the Commissioners on the Elections Commission have reportedly indicated that there is need for a cleansing of the voters' list. Jagdeo said he believes those Commissioners are the ones who may be under pressure by the Government "to delay the elections".
Rather than have house to house registration and a prolonged claims and objections period, Mr. Jagdeo said he believes an internal process could be used to rid the list of those persons who might have died since the last elections.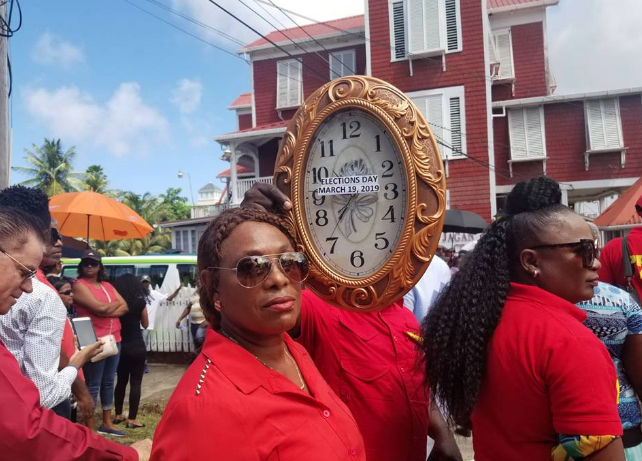 "I heard this argument about young people being disenfranchised, but you know the continuous registration starts with getting your registered from the time you are 14-years-old, and so they could have extracted those names of persons who will be 18 by election day and put them on the list", he said.
The protest and picketing exercise lasted for just an hour and also had the support of several former officials of the last PPP Civic government. It ended right back at Red House, where Jagdeo thanked his supporters and said that the protest represents the ratcheting up of the pressure for elections to be held early.
"If elections are not held by March 19, from that day forward, this government becomes illegal and unconstitutional", Jagdeo declared, to loud applause.