The campaigning for the Local Government Elections has started and today the People's Progressive Party announced that it has submitted more than 3000 candidates to compete for positions on the municipal and neighbourhood democratic councils across Guyana.
PPP General Secretary and Opposition Leader, Bharrat Jagdeo, told reporters at a press conference today that the PPP's list consists of party members as well as civil society members.
But Mr. Jagdeo also leveled accusations against the APNU, AFC and other parties and groups, claiming that many of them forged the names of supporters for their nomination lists.
His accusations come as the PPP is being accused of doing the same in parts of the Essequibo region.
Today, Mr. Jagdeo said his party has received reports from persons in forty-two (42) of the eighty (80) local authority areas, accusing the other parties of replicating names on their "Backers lists" or acquiring signatures from persons through fraudulent means.
He also complained about some of the parties presenting themselves at the GECOM locations up to a day in advance, so that they could be first to hand in their list.
"Now there were some things that we observed from nominations day activities, I think the country could see that itself. Many of you have been observing how the lists were submitted, You have seen parties camping out two days before, in some critical constituencies just to get their lists in first. I think we would have to advocate for a change in this law because it is an aberration. The law now states that the party that gets its list in first, that if any other list have would have a name that is replicated on the first list, the first list will retain that list and that name will be struck off from all the other lists."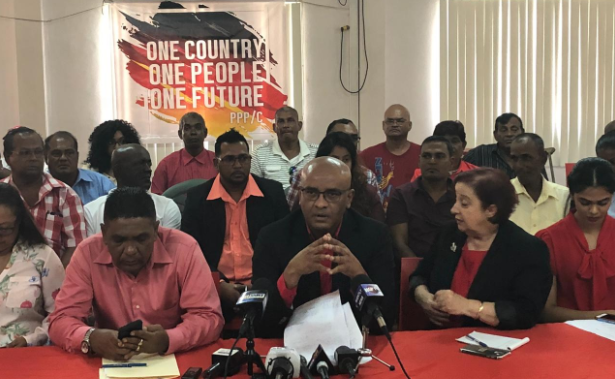 He said his party has submitted eighty lists to GECOM with over twenty thousand persons serving as "backers"
"We have observed that from our internal information now, over the past several days that in forty two (42) of the eighty (80) areas; either APNU, AFC or the URP have forged signatures or they have mislead people into signing the backers list. In 42 of 80 areas to be contested, just imagine that, more than half of the local government areas, not constituencies, I'm talking within areas."
With regard to the accusations that the PPP has also presented lists of backers with duplicated names, the Opposition Leader said it is a matter that his party will now investigate.
Meanwhile, the PPP today said it remains firm in its position that the Minister of Communities moved unconstitutionally, when he created new local authority areas. The PPP still intends to compete in those same areas.  (Dennis Glasgow)