Following the ruling of the Chief Justice that the Cabinet stands resigned following the passage of the no-confidence motion, the President and all of his Ministers, including those who were not part of the Cabinet, met in a plenary this past week.
The Government has since appealed the Chief Justice's ruling.
State Minister Joe Harmon at a press conference today said while the plenary meeting of Ministers is not the same as the Cabinet, the Plenary has the powers invested in the Minsters by their appointment by the President.
Mr. Harmon said "the plenary is all of the Ministers. All of them attend the plenaries and the plenaries are usually held once per month and Cabinet sessions are held every week as you are aware…It is noted that there is a judgement of the Court that was made with respect to the Cabinet and that judgement has been appealed, but we do not have a stay of the judgement as yet and therefore we have not held cabinet meetings as such".
He said the plenaries are chaired by the President and therefore would have the powers that a cabinet would have.
Pressed by reporters about the legality of the plenary sessions conducting business similar to a cabinet, Mr. Harmon said it is the President who appoints Ministers and they perform duties in various sectors as assistants to the President and therefore the President could convene meetings of those Ministers to address and deal with issues.
He said the powers for the plenary session comes from the powers invested in the President as Head of State and of Government.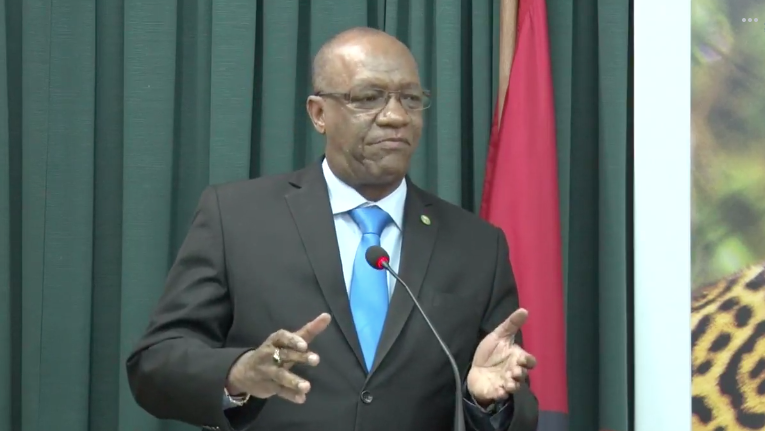 "We have a government that is legal and functional and we have a President who is the President of all of Guyana and we have a Government of Guyana. So, I don't buy this question of running a risk. We have been elected by the people of this country", Harmon said.
With regards to the noting of contracts, he said the plenary sessions are doing what they would have done in the past and that is noting contracts that would have been handed out by the National Procurement and Tender Administration.