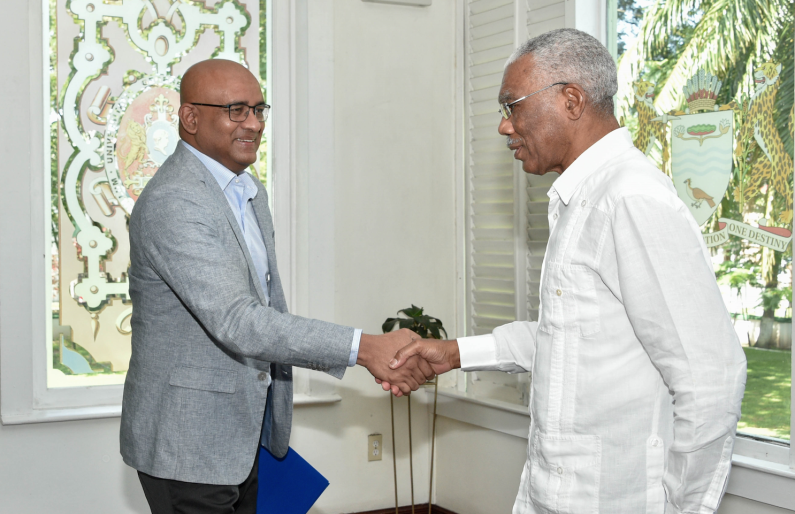 A Friday afternoon meeting between President David Granger and Opposition Leader Bharrat Jagdeo has been described by both sides as positive.
The meeting between the two leaders addressed a number of issues related to early elections. The President said both sides were able to put forward their concerns and issues.
"I will continue to abide by the Constitution and pay attention to the Chairman of the Elections Commission who will advise me," the President said.
President Granger said reference was made to the Consequential Orders of the Caribbean Court of Justice (CCJ) and their respective interpretations.
He said the Government maintains that the CCJ did not issue any coercive orders.
"I made it clear that it is impossible if not impractical for me, even though in the final analysis I have to proclaim a date, I could not do so without the advice of the Elections Commission".
President Granger said while he has noted timelines and dates being put forward in the media, he will await the advice of the Chairman of the Elections Commission.
"Everything hangs on what we are told by the Chairman speaking on behalf of the Commission," the President stated while remaining optimistic that the Commission will communicate with him next week.
"We are looking to hear something, maybe in a week's time. At the same time, I would like to assure the public that the meeting today with the Leader of the Opposition was important and beneficial. It helped to clarify issues which still exist within the two sides. There has been no agreement but greater clarity on the positions of the two sides,"
President Granger said he maintains that the Official List of Electors (OLE) has to be finalised and the said list has to be credible as elections would not be credible without a credible list.
"We referred to our meeting with the Chairman of Elections Commission on Thursday and we feel that her request to be given an opportunity to hear the judgment of the Supreme Court and meet with the members of the Commission was a reasonable one. We would like to engage with her after she has done those two things…So, the two sides are working towards a consensual outcome and the Government's position has not changed. We are pursuing a course that can guarantee a credible list and can be the basis of credible elections and the opposition's position has not changed. We are working towards seeking common ground so that the Guyanese people can be assured that we would have credible elections in the shortest possible time".
Opposition Leader Bharrat Jagdeo said the almost two-hour meeting was a good one.
While not divulging details of some of the discussions, he said both sides raised issues of concern and areas that they would like to see addressed.
He said he still wants to see the Parliament dissolved and a date set for elections by the 18th September.