Two weeks after his lifeless body was found in the backdam of #3 village, 17-year-old Haresh Singh was laid to rest today.
The teenager was found murdered with a wound to the head.
A post-mortem examination found that he died from brain hemorrhage caused by blunt trauma to the head.
His death came in the height of protests by West Coast Berbice villagers over the murder of two other teenagers, Joel and Isaiah Henry, days before.
President Irfaan Ali attended the funeral of Haresh Singh today and said he remains saddened by the passing.
The President said the country must start focusing more on unifying the nation.
"In memory of these young men, our focus has to be on healing, on bringing our country together, and on unifying our efforts to ensure we do not have a repeat of these incidents… we have to do these things, in addition to ensuring justice is served for these young men," the President stated.
He also said his government will ensure programmes are put in place to develop greater unity and cohesion in the country.
The President said, "As President, I can assure you that my Government is going to work day and night to bring our people together, through policies and programmes, through social efforts and the merging of cultures. I think that is important in creating that Guyanese identity, ensuring that the social safety nets are there for the vulnerable in our society." 
President Ali said too that he would ensure that all those affected and injured during the unrest will also receive the necessary assistance.
"In addition to visiting the families and attending the funerals of Isaiah, Joel and now Haresh, I have had the chance to talk with many of the persons who were injured and cannot fend for themselves because of those injuries. At some point also, we have to have the healing process there. I want all of these persons who were affected to know that we are going to connect with them, to find ways we can help as a Government," the President assured.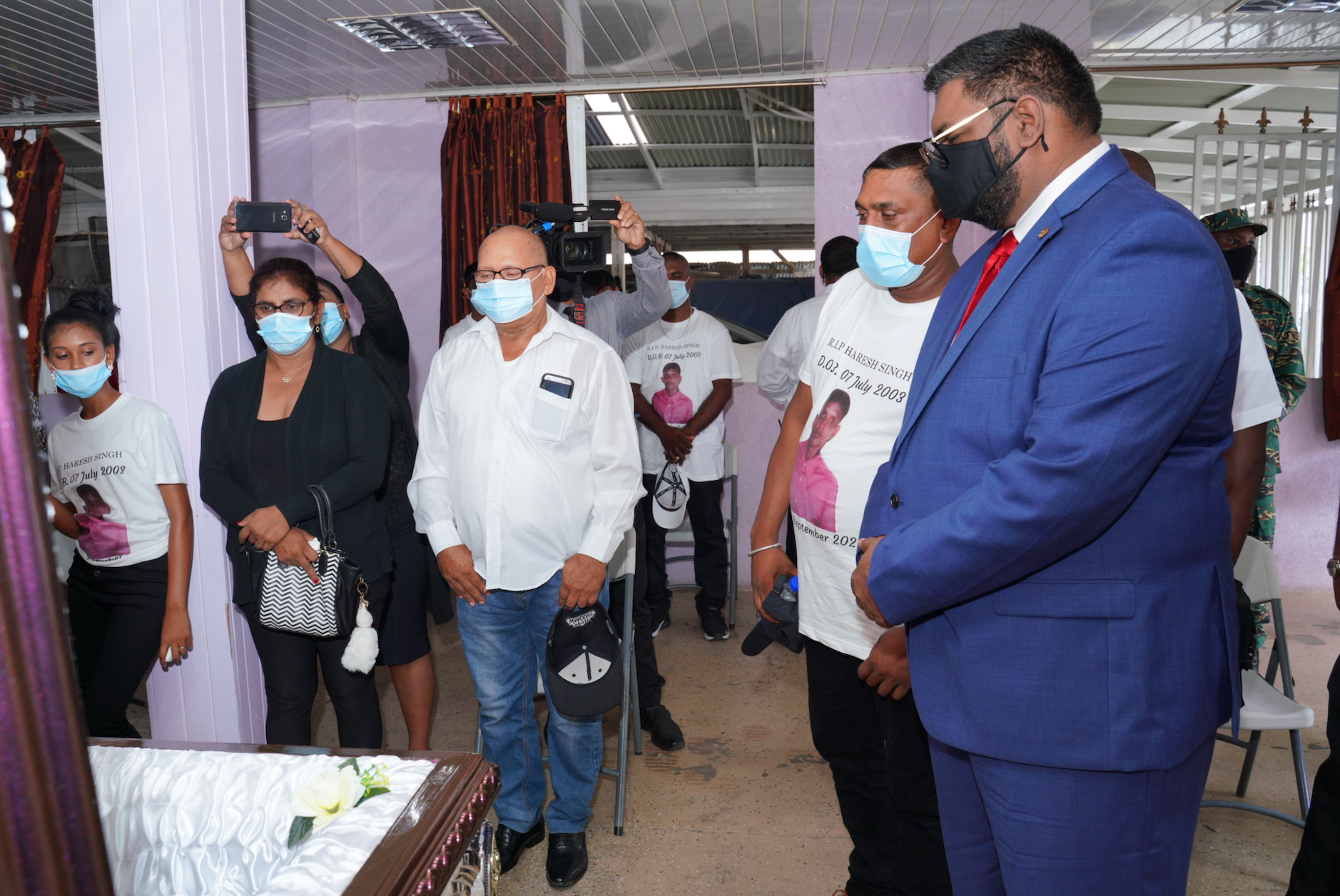 Investigations into the death of Haresh Singh and cousins, Joel and Isaiah Henry are still ongoing. Haresh Singh's grandfather was one of the persons arrested in connection with the murder of the teen cousins.
The President has said he will ensure all resources are made available for a full and complete investigation of the murders.