by Kurt Campbell
President David Granger delivered yet another address to the Parliament on Thursday in which he called on Parliamentarians, both on the Government and Opposition side, to do what must be done to rid Guyana of the disunity and racial rivalry that still plagues the land.
The President said he believed that as Guyana celebrates 50 years as an independent nation, a new opportunity for national unity has presented itself.
He told the House that any continuation in the same steps of disunity can be dangerously fatal. Mr. Granger said this Independence observation offers the opportunity to work together and heal reconciliations, an opportunity that had presented itself when Guyana gained Independence on May 26, 1966.
"But that national unity has been illusive… it's absence has impeded national development that led to political and ethnic fatigue. We must renew that Independence covenant with the Guyanese nation and resolve to work together to rebuild the nation," Mr. Granger said.
President Granger told the Parliament that the National Assembly must take the first step on a long road to social cohesion and inclusion. He also offered his commitment to enabling greater participation and inclusion at the political level and doing more to enforce employment and anti – discriminatory laws which will in turn ensure the health, happiness and safety of all citizens.
"Social Cohesion is about fostering greater integration in our nation. Integration is intended to create a sense of belonging, it is intended to give recognition to all groups and to allow them to freely practice their culture. Integration expands the space for diversity," President Granger said.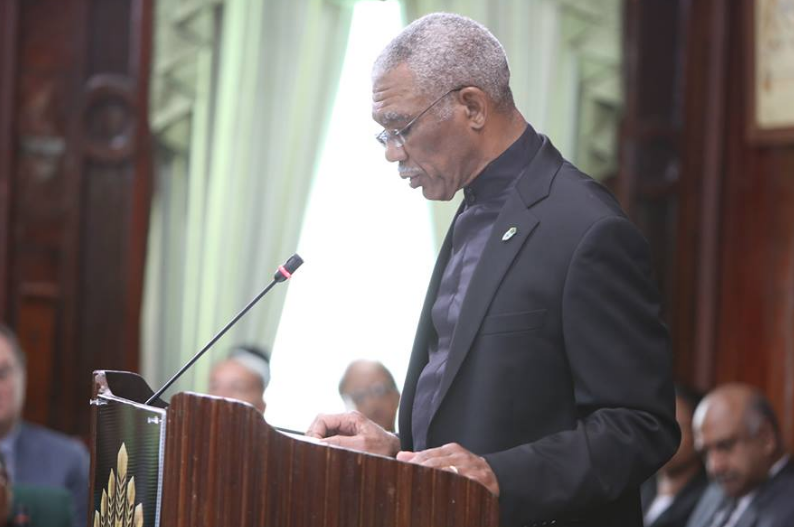 He expects that the Constitutional Reform that will take place in the future will ensure that a system for inclusion will work. "That system must involve consultation with citizens in all regions in the decision-making process… every citizen must be given a chance to be heard. This 50th independence anniversary must not only be reflection but where we plan for the future and commit to ensuring that our children and generations to come will inherit a country that will allow them to enjoy a good life," he added.
The President said he believes that the first 50 years of Independence were spent on mending the social fabric, promotion peace and rebuilding the economy.
He hopes that the next 50 years will be different and will usher in an era of social peace and political prosperity.