In an early afternoon broadcast to the nation that included questions from Guyanese via social media, President Irfaan Ali on Saturday called on Venezuela to release the Guyanese fishermen in its custody and desist from further acts of aggression towards Guyana.
"We have friends. We are not alone. We have the international community behind us", the President said while being flanked by senior military officials and senior officials of his cabinet.
Twelve Guyanese fishermen and their vessels remain in Venezuelan custody after being detained by the Venezuelan Coast Guard within Guyana's Exclusive Economic Zone.
President Ali said Guyana continues to inform its international partners on the development including the United States and the United Nations.
The President said he received a letter last evening from the UN Secretary-General Antonio Guterres who reaffirmed his January 30th, 2018 decision to choose the International Court of Justice as the means "to be used for the solution of the controversy" as he was empowered to do under an agreement signed in Geneva by all parties in 1966.
President Al said the Secretary-General acknowledged that the Court is proceeding to adjudicate the merits of the case.
The case management conference for the case is now scheduled to take place in late February.
The President said the UN Secretary-General offered his good offices role to address "other important issues" should Guyana and Venezuela make a request.
President Ali said he believes "Guyana is fully committed to the ICJ process. We believe international law and independent international jurists of the highest calibre offer the most credible and definitive way in which to put an end to the Venezuelan contention". Mr. Ali also noted that Guyana is not averse to engaging Venezuela on bilateral matters in which we have a common interest including the increasing number of Venezuelans seeking refuge in Guyana.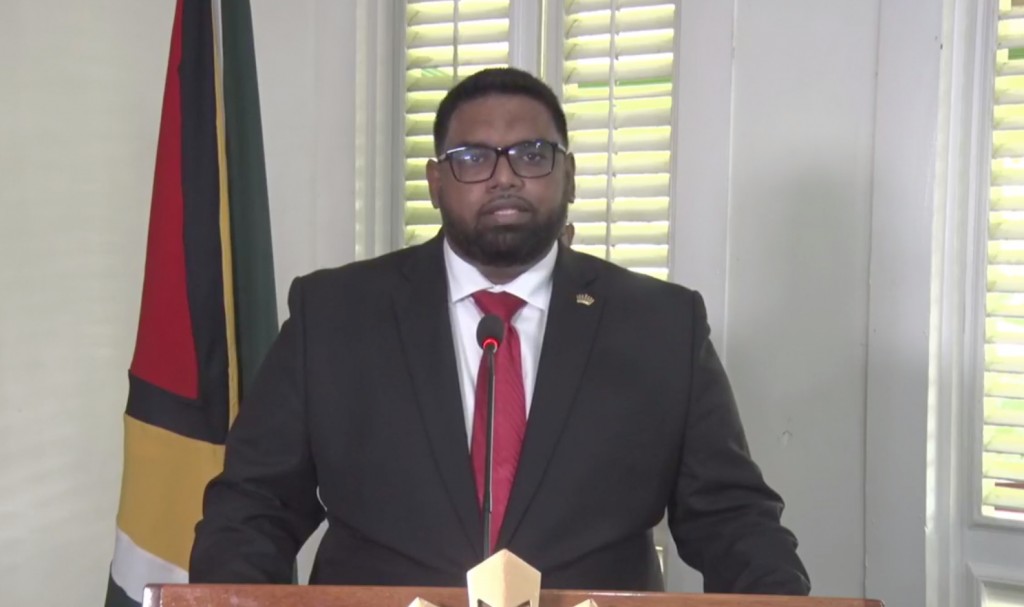 Minister of Foreign Affairs Hugh Todd announced that based on reports from family members and Guyana's Diplomatic representatives in Caracas, there is no concern at this time about the conditions under which the crew members are being held. They are all being detained under guard on their boats.
"Our conversations with relatives here in Guyana does not give us any concern or worry that they are not being treated fairly", Todd said.
Even with the Guyanese fishermen in custody and Venezuela continuing patrols in Guyana's EEZ, there is official warning being issued by the Government to other vessels heading out to sea.
The President said Guyana's Exclusive Economic Zone belongs to Guyana and it remains open.
He said the Government intends to launch an aggressive public information campaign on the various issues related to Guyana's territorial integrity and the case that is currently before the ICJ.
President Ali said Guyana is united on the issue of its territorial integrity and "nothing that threatens our territorial integrity will separate us".